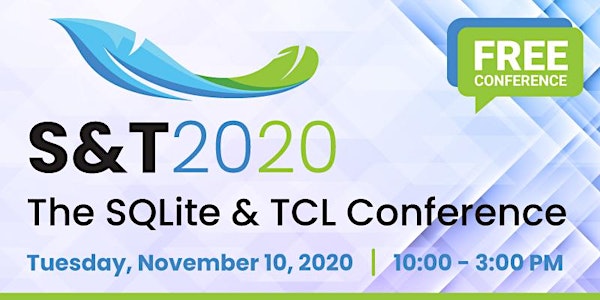 S&T 2020
Join the SQLite & TCL engineers and peers leading digital transformations for a digital event managed by the TCL Community Association.
About this event
Over the past 26 years, we look forward to connecting with our global TCL community in Houston, TX, and sharing our insight on this dynamic language, and more.
We are pleased to announce the 27th Annual Tcl/Tk Conference (Tcl'2020), managed by Tcl Community Association and FlightAware has been reimagined as a digital event titled S&T 2020 (SQLite & TCL).
Objective
Connect with industry leaders near you and around the world, and access special programming built just for your local & global community.
During this 1-day event, you'll get access to:
• Insight into technology from Software Developer and primary author of SQLite Dr. Richard Hipp.
• Learn from the experts and share your knowledge. The annual conference is the best opportunity to talk with experts and peers, cross-examine the Sqlite and TCL core team, learn about what's coming, and how to use what's here.
Call For Speakers
Given the Covid-19 virus and all the disruption it's causing, we thought rather than requiring people to put all the work and time into creating a full-fledged academic paper, we'd instead make it easier on contributors by asking for shorter, less formal talks. Have you done interesting work that you would like to share? How about a cool idea that's not yet baked or just in the prototype stage but seems like something others would be interested in? The SQLite & TCL audience would like to hear about it and can provide valuable discussion and feedback. We are particularly interested in new ideas, to hear about novel solutions to problems you've faced, or to see your work in progress. To schedule your talk, please send an email to violet.diaz@flightaware.com.
Contact Information
Violet.Diaz@flightaware.com or tclconference@googlegroups.com
Event Information
This virtual conference is one day and completely free. Tune in to learn from people who make the most of SQLite and TCL every day. The event schedule will be posted on this website. This will include an opening talk, our Keynote Speaker, Richard Hipp, presentations, and WIP's.
The Webinar will open at 09:30 CST. Please feel free to log in early to test your system!
Schedule (CT)
10:00 - 10:10 – Welcome & Opening - Karl Lehenbauer
10:10 - Richard Hipp - 2020 SQLite Status Update
11:00 - Ron Fox - A Logbook for Nuclear Physics Experiments
11:15 - Gerry Snyder - GEB
11:35 - Jonathan Cone - SQLite storage for FlightAware raw flight data
Noon – Lunch
12:30 pm - Rene Zaumsiel - tcl/tk 8.7 tclkits (zipkit) and extended tk graph and path widgets (related to tip 510 and 556)
13:00 - David Simmons - Building PWAs and Services with EdgeS ESS+SqLite
13:30 - Nic Boet - syslog-alert
13:45 - Gerald Lester - The state of PTk -- Projected Tk
14:00 - Ron Fox - Analyzing pre-parsed data in NSCL SpecTcl with Sqlite3.
14:30- Arjen Markus - Numerical Applications: Using NumPy from Tcl
14:45 - Steve Landers - Converting a computation-intensive Tcl application to leverage multiple CPU cores
15:15 - Coffee break
15:30 - Detlef Groth - Tcl meets text: writing code documentation or document with code using mkdoc and tmdoc
16:00 - Clif Flynt - A new look at wrapping: SimplisKit and ObfusKit
16:15 - Dan Shearer - LumoSQL: Towards a storage API in SQLite
16:45 - Closing
Click on this link to convert the scheduled talk time to your local time.
Please visit the core tcl page or this page to view a detailed list of speakers & topics.
Q&A
Attendees can ask questions two ways:
The Q&A feature will be located at the very bottom of the toolbar. Attendees can type and enter their question. The questions will be visible to the entire audience.
How To Access The Event
Attending a Zoom Webinar is as straightforward as clicking on a link. Attendees do not need their own Zoom account to join a Webinar. You can join through a browser or the Zoom client from any desktop, laptop, mobile, or device.
Registered attendees can find the Zoom Webinar by clicking the "Access the event" button located on the right middle side of the Eventbrite page
Registered attendees will also receive an email confirmation with event details including the link.
A separate zoom link will be available for lunch, coffee breaks, and a happy hour. Join the link to say hello to your colleagues during the scheduled breaks or at any time throughout the conference.