Description
We have closed registration at 800 people; we are no longer accepting registrations. The waiting list is closed.
On August 21st, witness a rare historical event with Southern Research! As part of Innovation Week Birmingham, Southern Research's Southside campus is hosting a free public viewing party for the first total solar eclipse in the continental U.S. in nearly 40 years. Food trucks, including Cantina on Wheels, Devil Dawgs, Saw's BBQ, Tot Spot, Steel City Pops and Bendy's Cookies & Cream, will be available onsite, solar viewing glasses will be provided to ALL registered guests, Birmingham Mountain Radio will be broadcasting live music and the NASA live stream will be broadcast inside. Parking spaces are available on a first-come, first-serve basis in front of Southern Research on 9th Avenue South. Tickets are required at the entrance.
Southern Research has a long partnership with NASA that dates back to 1950. For this particular eclipse, an imaging technology developed by Southern Research scientists will be used by NASA to capture unique data. Read more about how Southern Research is helping to track the eclipse here.
We look forward to seeing you at this historic event!
FAQs
Why is Southern Research hosting an eclipse event?
Southern Research is tracking the eclipse with NASA using two airplanes, and one of our engineers will be flying in a NASA plane to track the eclipse. Follow us on Facebook and Twitter to learn more about our 67 years of contributions to the NASA space program.
Do I have to bring my printed ticket to the event?
You must show your ticket (paper or digital) at the entrance to enter. Your ticket will display a number that includes you and the number of guests you specified when you registered. Please do not bring guests beyond the number you originally registered. While the event is free, due to constraints with space, we have closed registration.
Can I still attend the event even if I did not register?
This is a free event, however, due to space and the limited availability of solar glasses, we are unable to provide entrance to those who did not register.
What are my transportation/parking options?
There is limited parking available at 9th Avenue South (see the map below). Once the park's lots are filled, parking attendants will enforce that no vehicles will be allowed to park in these lots. The Five Points South Deck parking garage is available for overflow parking for a $3 fee. It is located at 2012 Magnolia Avenue Birmingham, AL 35203. We encourage you to carpool, use ride-share services Uber and Lyft, or hop on a bike from Zyp BikeShare. There will be a temporary Zyp Bike station located close to the entrance of Southern Research and a permanent station is located next to Chick-fil-a in Five Points.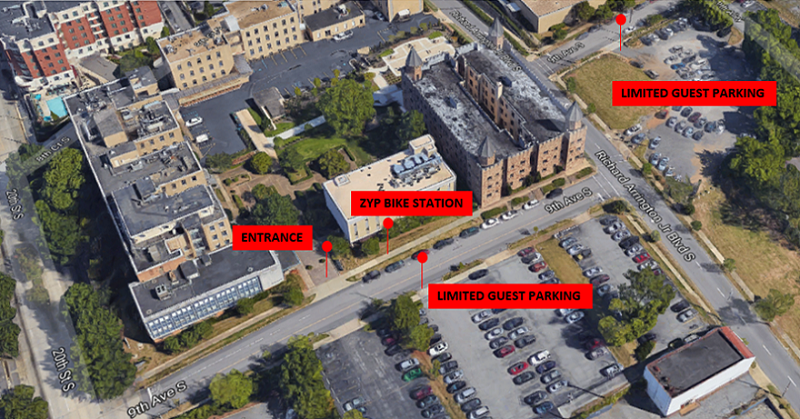 Where do I get safety glasses to watch the eclipse?
Southern Research volunteers will hand out safety glasses to registered guests at the event; glasses will not be given out in advance. Glasses are limited to one pair per person while supplies last. Glasses MUST be worn while looking directly at the sun. Read about why it's important to protect your eyes on NASA's website.
What eclipse viewing activities will be available?
Each registered guest will receive a pair of solar glasses with which to view the eclipse. Inside the Martin Library (located adjacent to the courtyard) we will also have a live stream of NASA TV and a live stream from Southern Research's AIRS/DyNAMITE technology that is mounted on two NASA WB-57s. In the courtyard, our engineering team will setup solar telescopes with eclipse-related activities and presentations.
Will lunch be available for purchase?
Yes, food vendors will be on-site providing various foods and beverages that are available for purchase. Food vendors include: Cantina, Saw's BBQ, Devil Dawg's, Tot Spot, Steel City Pops, and Bendy's Ice Cream.
What if there is inclement weather on the day of the event?
In the event of inclement weather this event will be canceled, and we will communicate in advance on our Facebook and Eventbrite pages.
Will guests be able to go inside the Quinlan Castle?
No, guests will be able to view the eclipse from the courtyard located next to the castle, but entrance to the castle is prohibited for safety reasons.