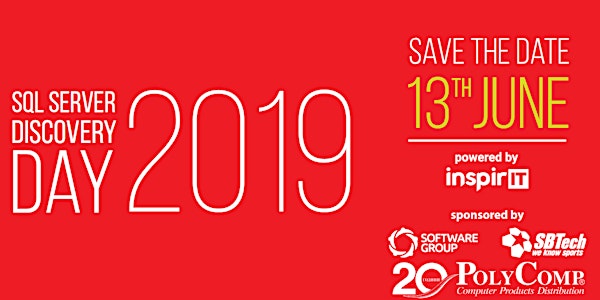 SQL Server 2019 Discovery Day
When and where
Location
Hall "New York City" & "Manhattan" Capital Fort (Business Center), Boulevard "Tsarigradsko shose" 90 1784 Sofia Bulgaria
Description
Hello Everyone!
The most focused and exciting SQL event in Bulgaria is here!
Join us for SQL Server 2019 Discovery Day on Thursday, June 13th, 2019 at CAPITAL FORT (Hall "New York City" and "Manhattan", Boulevard "Tsarigradsko shose" 90, Sofia)
We keep our traditions – event will be split in two main parts: First - we will have sessions with sharing experience and practical skills like new version of SQL Server 2019, hottest topics and newest features & improvements in SQL world. Second part will be our QUIZ - most passionate and successful participants at the end will be rewarded. The Speakers will be the usual suspects – our amazing trainers from SQL Master Academy & Inspirit - MARGARITA NAUMOVA, ROZALINA ZAHARIEVA and IVAN DONEV.
What is new – a new track in the first half of the day, where you can join our BUSINESS SESSION and DISCUSSION PANEL. Expect real scenarios, discussions on real cases, vision for future and open mike for questions. Guest speaker, that we will soon reveal, will join us for these sessions.
And what is always be the driving force for such events – Let's SQL and have fun!
AGENDA:
08:30 - 09:00 - Registration
09:00 – 09:30 - Opening
09:30 - 10:45 – Track 1: What's new in SQL 2019 / Track 2: Business Session - DataMorphosis през погледа на скептика (Hall Manhattan)
Какво "скрихме" зад понятието Datamorphosis

Datamorphosis и фактора време в бизнеса

Datamorphosis и бизнес решенията




Datamorphosis и контрола над цифрите

Datamorphosis и доверието в данните
10:45 - 11:00 - Coffee Break
11:00 - 12:15 – Track 1: SQL 2019 Big Data Clusters / Track 2: Discussion Panel (Hall Manhattan)
12:15 - 13:00 - Lunch
13:00 - 14:30 - Fun with AI and BI
14:30 - 14:45 - Coffee Break and Quiz Teaming
15:00 - 15:45 - Quiz
15:45 - 16:00 - Quiz Evaluation
16:00 - 16:30 - Prizes and Closeout
Language: Bulgarian
CONTACT US:
E-mail adress: office@inspirit.bg
Phone number: +359 885 113 442
LinkedIn: https://www.linkedin.com/company/inspirit
https://www.linkedin.com/company/sql-master-academy