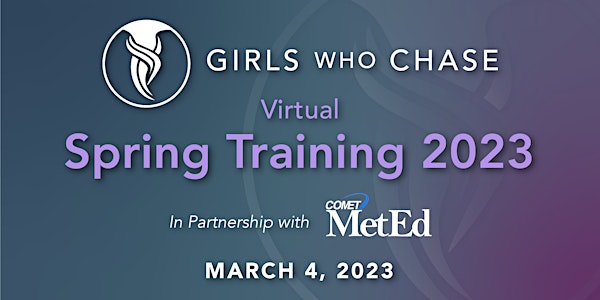 Spring Training 2023
For building and refreshing your storm chasing foundation.
About this event
The 2023 Girls Who Chase virtual Spring Training event - in partnership with COMET/MetEd offers foundational, operational and accessible information and training material for storm chasers at all levels - from those who want to begin their chase education or brush up on the basics, to more advanced chasers wanting to learn more in-depth about specialized topics. Just like in baseball, we gather every spring to shake off the rust, refresh our skills, and get ready to hit a home run.
Spring Training speakers are experts within their fields, and the training is an opportunity to learn from them in-depth, in addition to offering interactive opportunities to ask questions and chat with chasing veterans.
Our inaugural event will focus in the following areas:
Forecasting 101
How to read radar & satellite imagery
About the Storm Prediction Center & National Weather Service regions - and the reciprocal relationship with storm chasers
Chase safety & the role of storm chasers in an emergency
How to produce, sell and broker video content
Chasing the monsoon & lightning photography 101
We will also have two virtual gathering spaces as part of the event, offering opportunities to chat with female experts in:
Storm chasing, self-taught
Storm chasing, meteorology background
Meteorology (National Weather Service)
Broadcast meteorology
Private enterprise meteorology
*******
TO ACCESS THE EVENT:
A join/streaming link for this event will be sent to registrants via email and made available on this event site approximately 48 hours prior to event start. The event will go live promptly at 10am CT on March 4, at the link you have been provided.
NOTE: All presentations will be recorded and made permanently available to registrants - so if you can't make it, you can check 'em out after the fact (and watch as many times as you want). We will distribute the link to the recordings via email to all registrants shortly after the event has ended (within 5 days to allow us time to produce and upload).
*Please note there are NO REFUNDS - once you have purchased registration, it's yours!