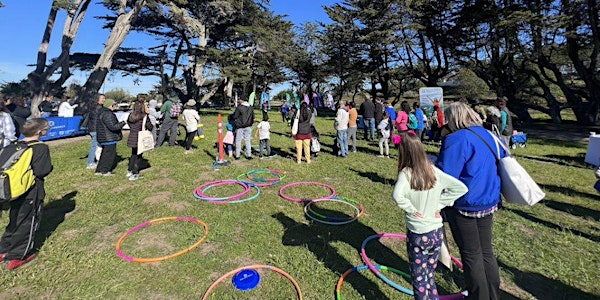 Spring Into Wellness
Family time, good food, fun activities, prizes and more! ¡Tiempo de familia, comida deliciosa, actividades divertidas, premios y más!
By Blue Zones Project Monterey County
Date and time
Sunday, May 7 · 12:30 - 2:30pm PDT
Location
Oldemeyer Center 986 Hilby Avenue Seaside, CA 93955
About this event
Move with us, enjoy healthy bites, and enjoy a fun afternoon with us!
It's FAMILY time! Enjoy activities for all ages while you can learn about how to LIVE BETTER LONGER!
Participants will have the opportunity to participate in well-being activities, receive a BZP shirt and be entered to win fun giveaways!
For more information email Azalea at: azalea.power@sharecare.com
¡Muevete con nostros, disfrute de bocadillos deliciosos y participe en un dia divertido!
¡Es tiempo de FAMILIA! Disfruten actividades para toda la familia y aprendan como ¡VIVIR MÁS Y MEJOR!
¡Participantes podran participar en actividades para mejorar su bienestar y obtendran una playera de BZP, ademas podran entrar a sorteos!
Para más información contacte a Azalea: azalea.power@sharecare.com
PARTICIPATION WAIVER: The following waiver is required because, like joining a gym, there is some minimal risk to participating in any program. In addition, there will be pictures/videos taken at many events in order to teach other communities how to succeed. This waiver gives Sharecare, Inc. and Blue Zones Project the right to use these images. Only 15 year and older participants qualify for the raffles.
I, the participant, agree to be legally bound, hereby, for myself, my heir, executors, and administrators, waive and release any and all rights and claim and damages I may have against Sharecare, Inc., Blue Zones Project, and any and all Blue Zones Project sponsors and their representatives, successors, and assigns for any and all injuries suffered by me in said program/event. Further, I hereby grant full permission to any and all the foregoing to use any photographs, videotapes, motion pictures, recordings, or any other record of this program/event without liability or obligation to me for promoting Blue Zones Project and any other reasonable purpose. I also allow my name to be listed among all Blue Zones Project participants.
About the organizer
Blue Zones Project Monterey County is a community-wide, well-being initiative that focuses on making our community a healthier, happier place to live, work and play. Blue Zones Project encourages individuals and businesses to adopt healthy best practices based on the lifestyles of the world's longest living people.
Para más información visité www.bluezonesproject.montereycounty.com