Description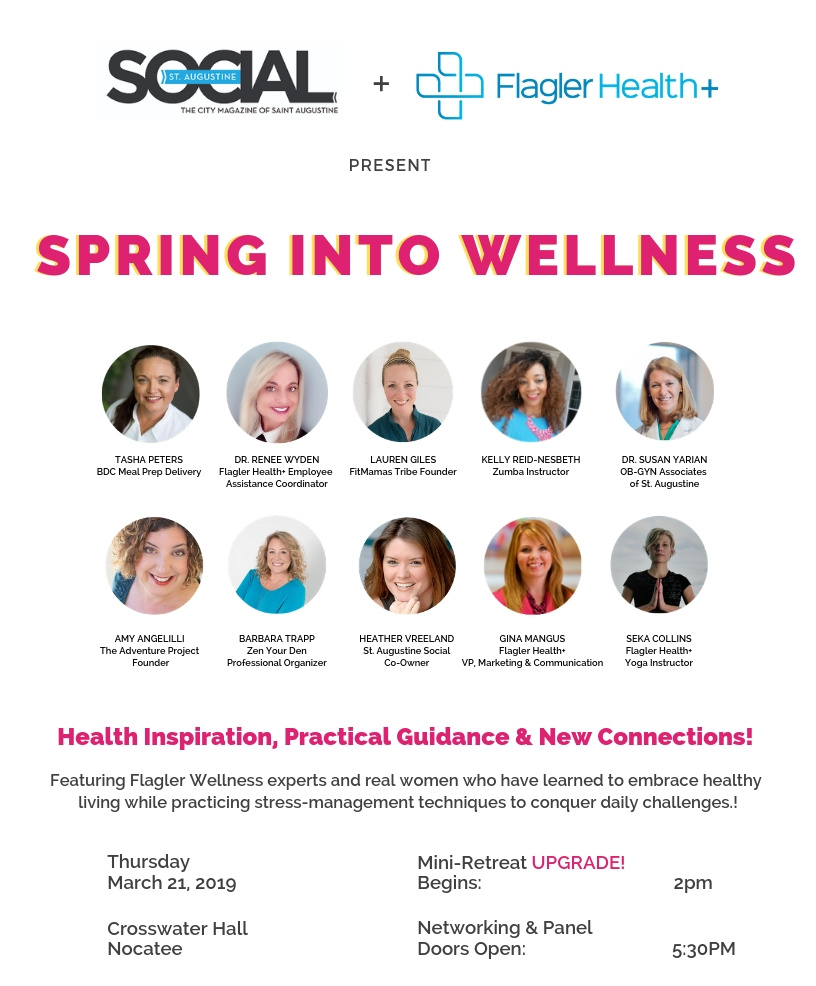 St. Augustine Social Magazine invites you to a fun evening of networking, a wellness panel and healthy living tips and tricks.
We'll be celebrating women who have somehow figured out how to balance a healthy lifestyle with all of their other obligations and aspirations!
Connect with female health leaders from Flagler Hospital and real local women who have figured out how to prioritize their health while living busy lives, overcome significant health challenges and mastered self-care.
Get inspired to re-focus on your own health and wellbeing through the real stories of women on our panel and the hard-earned wisdom of our expert guests!
Kids out of school for Spring Break? Feel free to bring your middle or high-school age daughter!
This is a great chance to explore living a healthy lifestyle as a family!
ABOUT THE EVENT
Learn how to embrace a healthy lifestyle while balancing work, family, community and more...
5:30pm – Cocktails & Connections Hour
6:15pm – Healthy Living Panel and Q&A, featuring...
- Dr. Susan Yarian, Flagler Hospital OBGYN
- Lauren Giles, Fit Mamas Tribe Founder
- Renee Wyden, Flagler Hospital Wellness Expert
- Kelly Reid-Nesbeth, Zumba Instructor
- Tasha Peters, By Design Catering Co-owner
*PLUS*
GRAB THE MINI-RETREAT AFTERNOON UPGRADE!
MINI -RETREAT HOURS: 2pm-5pm
If you're ready to take action and start living a healthier, happier, more joyful life and release the stress, overwhelm and confidence crushing thoughts, join us for our Mini-Retreat Afternoon Upgrade (Limited Space available!)
We'll be focusing on how to overcome overwhelm, embrace self-care and healthy living and embrace a confidence mindset!
Join us in the afternoon for a Mini-Retreat Upgrade!
Mini-Retreat Pass includes:
- Welcome from St. Augustine Social & Flagler Hospital
- Simple Meditation Practice with Renee Wyden
- Overcoming Burnout and Wellness Roadmapping with Renee Wyden
- Laughter Yoga Exercise with 'The Adventure Project' Founder Amy Angellili
- Nutrition Intensive: Real-life healthy foods and meal-planning demonstration with Tasha Peters, By Design Catering Co-owner
- Specialized Fitness Session with Seka Collins, Flagler Hospital Wellness Expert
- 'Clear the Clutter' Demonstration with Barbara Trapp, Zen Your Den Founder
FEATURING FLAGLER HOSPITAL EXPERTS...
Flagler Hospital is working to improve the physical, social and economic outcomes of St. Johns County residents. We're delighted to introduce some of Flagler's outstanding female physicians and wellness guides who have taught countless women how to embrace their health journey and live their best lives!
MEET THE NON-PROFIT PARTNER FOR THIS EVENT...
St. Johns Care Connect is a service of Flagler Hospital and a community alliance established to connect area residents with resources and address social determinants of health in a coordinated way throughout St. Johns County.