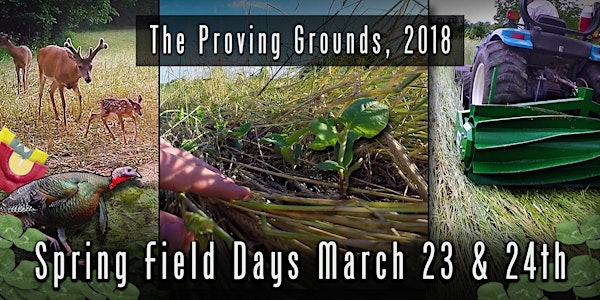 Spring Field Days 2018: March 23rd and 24th
When and where
Location
The Proving Grounds: Branson, MO 4792 State Highway 248 Reeds Spring, MO 65737
Description
2018 GrowingDeer Spring Field Days

Join Dr. Grant Woods and the GrowingDeer Team for Spring Field Days 2018. Attendance is limited to the first 100 people that register!
Friday, March 23rd
4 PM to 8 PM Meet and greet with several activities. Bow shoot (bring your bow!) featuring Morrell Targets, turkey call lessons with world champion turkey caller James Harrison, field estimating of Boone & Crockett scores with Dr. Richard Hale, food plot techniques and equipment review with RTP Outdoors, and firepot visits with Grant & Daniel.
Saturday, March 24th
7 AM to 4 PM Field Day at The Proving Grounds, lunch served on-site. See what we do here at The Proving Grounds first hand: The Buffalo food plot establishment and maintenance system, hunting strategies and stand/blind placement, prescribed fire techniques (if conditions permit) and results, and much more! See examples, ask questions and get answers to guide you in developing your hunting property and improving your hunting success.
6 PM Join us for a dinner at the Keeter Center in the Silver Dollar City Parlor followed by a presentation by Grant Woods.
Accommodations are not included.
Register now! Attendance is limited to the first 100 people! Registration is online only. For questions call us at 417-334-3441 or visit our Facebook page.
Registration: Registration is $250 per person.
General Information
Still trying to decide?
Check out this video of Spring Field Days 2016 at The Proving Grounds.
FAQs
I have more questions, what is your phone number?
You can reach us at 417-334-3441. We will get back to you as soon as possible.
Is there an age limit to attend Field Day?
All ages are welcome, please be aware that we will be spending time in the field regardless of weather. Minors must turn in a waiver signed by their parent or legal guardian prior to participating in Field Day activities.
Can someone join me for the catered dinner on Saturday evening?
Yes, there is an option during registration to add additional attendees to the Saturday evening meal for $50​.
Are registration tickets refundable or transferrable?
All registrations are non–transferrable and non-refundable.
Do I need to bring my printed ticket to the event?
Printed tickets are not necessary to enter the event. You will check in at the registration table when you arrive.
Can I register multiple people?
Yes. However, each person must turn in a signed waiver prior to participating in Field Day activities.
Can I review the waiver?
Yes, you can see a copy of the waiver by clicking here.