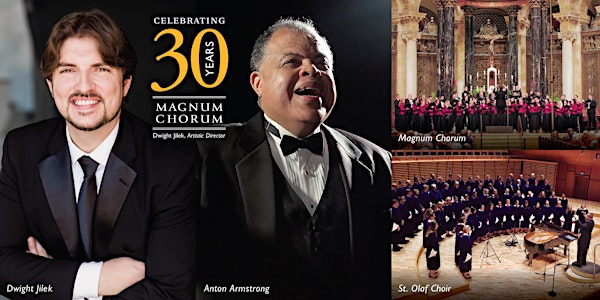 Spring Concert with Magnum Chorum and the St. Olaf Choir
Join us as we celebrate 30 years of transforming artistry and spirit with Dr. Anton Armstrong and the St. Olaf Choir.
When and where
Location
Westwood Lutheran Church 9001 Cedar Lake Road Minneapolis, MN 55426
About this event
Magnum Chorum illuminates spring in Hailstork's Nocturne, Christiansen's Exaltation, and Ešenvalds' Evening as it paints glorious bird song in a glowing red sky. Rosephanye Powell's The Word Was God celebrates creation as Shavon Lloyd's Alleluia exclaims our joy. Magnum Chorum offers an evocative Ancient Prairie with violin and premieres Ešenvalds' I Thought of You with yearning poetry by Sara Teasdale.
The St. Olaf Choir presents Ave Maria by R. Nathaniel Dett, Mendelssohn's Justice, O God, and When Thunder Comes by Mari Esabel Valverde in a tribute to civil rights heroes. Ralph Johnson's Ocean of Peace transports us into the "great unknown" as Jane Southwick Cool's When Memory Fades embraces the frailty of aging as past and future become one and "goodness lives unfading." With drums and piano, you'll experience the rousing gospel tune Let Everything That Hath Breath by Jeffery Ames.
The choirs combine for Nunc Dimittis in memory of Robert Scholz and Sigrid Johnson, Salutation by Ešenvalds and joyful Praise to the Lord.
Your safety is important to us! Masks are required to attend Magnum Chorum's concert at Westwood Lutheran Church including while on the premises before and after the concert. We are also requiring that all attendees be vaccinated for COVID-19. If you have COVID-19 symptoms or had known exposure, we respectfully ask that you not attend the concert.