Description
**UPDATE: 2020 Spring Bee College is now FULL. Registration is now closed. To be added to a waiting list, please e-mail honeybee@ifas.ufl.edu. 2020 Fall Bee College (Session 1: August 17 & 18; Session 2: August 20 & 21, 2020) registrations will be open immediately following 2020 Spring Bee College. Spots are limited**
Join the UF/IFAS Honey Bee Lab at the 2020 University of Florida Spring Bee College for one or two days of all things honey bees. Those new to beekeeping can follow the beginner track, while more experienced beekeepers can participate in hands-on training in the apiary, classes on honey bee research, and other advanced topics in beekeeping. Those interested in Honey Judge Training, please scroll down to the bottom of this page.
Discounted Rates
Early Bird Discounted tickets are available now through January 13th, 2020.
Additionally, a discount (10% off) is available for 2-day tickets to active duty military members, Retired Veterans, Florida State Beekeepers Association members, active members of the Master Beekeeper, Master Gardener, and/or Master Naturalist Programs, UF/IFAS county extension faculty, and anyone under 18 years of age.
Late registrations (after February 16th) will incur additional fees and cannot be discounted.
Bee Clubs/Associations can purchase a 2-day ticket at a discounted rate ($140) to raffle off to your club's members. Only one discounted ticket is allowed per club. Follow the steps below:
As a club,

use the promotional code beeclub, for access to the

$140 ticket. When completing this registration, enter your bee club's name, not the purchaser's name.

The Honey Bee Lab will send you a coupon code for a free ticket, within a week of registering.

Hold your raffle and give your club's coupon code to the winner.

The winner registers on Eventbrite, by entering the coupon code and choosing "Free Two Day Registration".
Vendors
Bee-related vendors will be onsite at Bee College throughout both events. If you are interested in becoming a Bee College vendor, please contact us at honeybee@ifas.ufl.edu!


Lodging
There are multiple options for hotels near the UF/IFAS Honey Bee Lab, including many near the intersection of I-75 and Archer Road, which is less than 10 minutes from the lab. We also recommend that you look at hotels in Ocala, Alachua, and High Springs.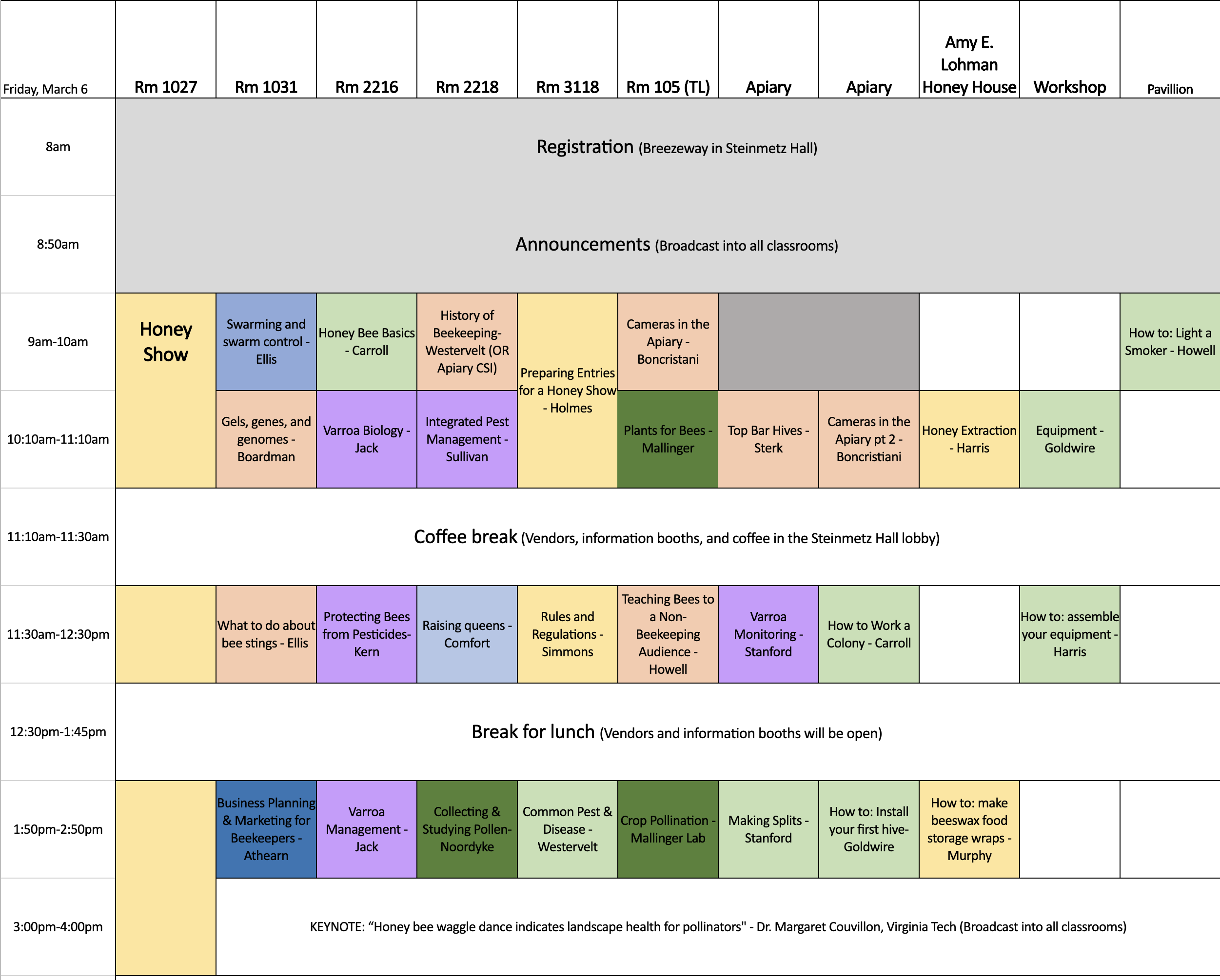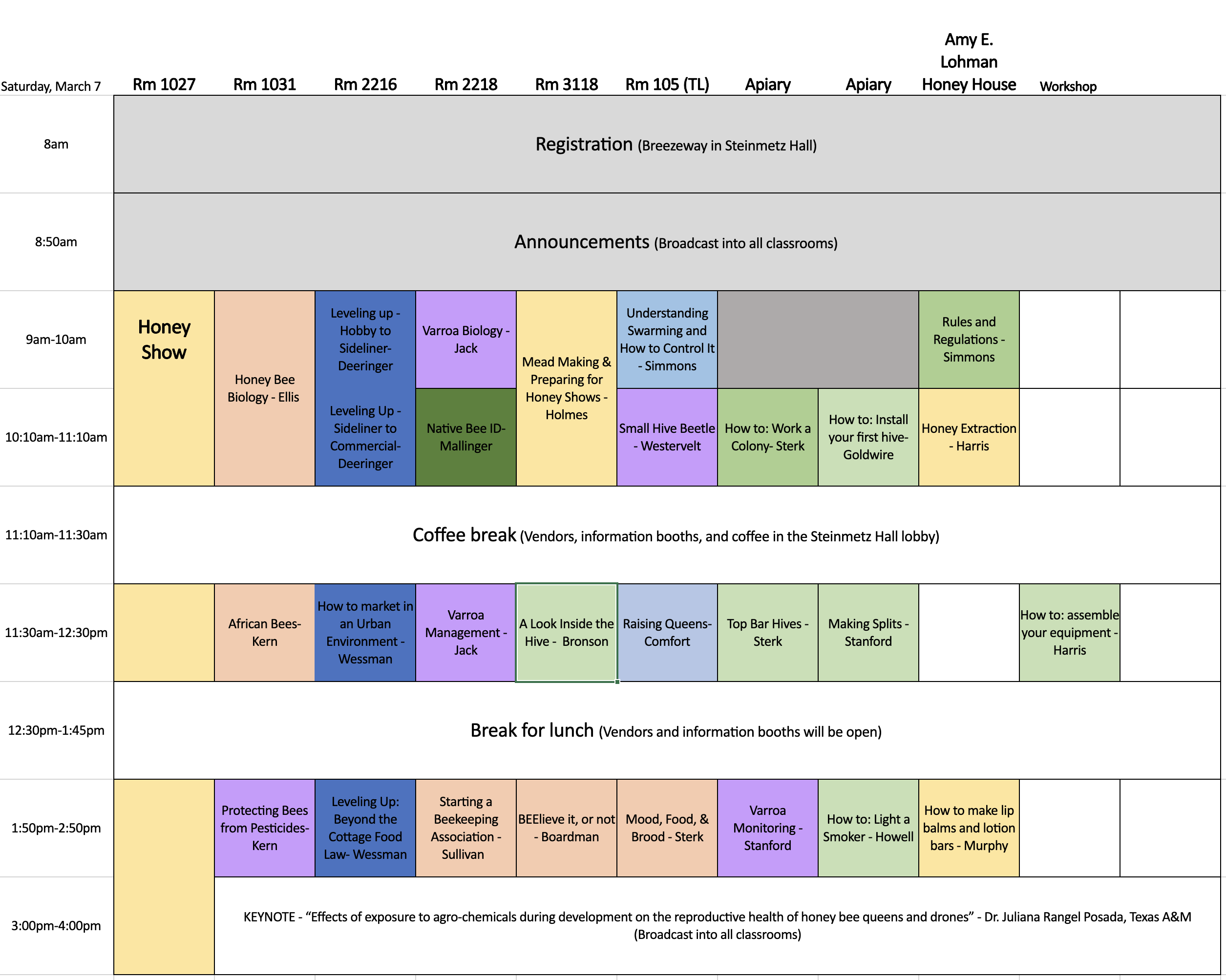 Bee College Honey Show
All Bee College participants are encouraged to participate in the Spring 2020 Bee College Honey Show. Entry is free! This is an opportunity to have your honey, candles, mead, bee-themed art, and more critiqued by certified judges. This is a great way to learn how to improve the hive products that you produce! Rules and other details can be found here: https://entnemdept.ifas.ufl.edu/honey-bee/extension/bee-college-honey-show-/. The show will take place during the Bee College event. More details will be provided at a later date.
Honey Judge Training
**UPDATE: Honey Judge Training is cancelled due to low interest and sign-up. Bee College participants may attend "Preparing Entries and Mead Making" as part of the program. Honey Sensory Analysis workshops are NOT cancelled and will resume as planned**
UF/IFAS Honey Judge* Training and Honey Show, will be offered/held during the Spring 2020 Bee College March 6th and 7th.
This training will be lead by Florida's own Senior Honey Judge, Jennifer Holmes. This event can serve as your first entrance into the UF/IFAS Honey Judge Program or as a continuation of your training in the program. All new or current Candidates and Judges are strongly encouraged to attend this training, and enter the Honey Show.
If you are new to the program, you are in for a treat! You will learn the skill and technique required to prepare your entries for a Honey Show, as well as how they are Judged. The outline for the program is below. You can use this information and training as a focus in the UF/IFAS Master Beekeeper Program, and winning awards for your Honey and other Products from the Hive are a source of pride and accomplishment that will increase the recognition and value among friends, peers, colleagues and customers.
Anyone is welcome to participate in both the Introductory and Advanced Honey Judge training.
Advanced Training: Saturday's training will focus on Wax, Mead, and Creamed and Comb Honey entries. Bring questions about the show classes you need to work on most. Let's work together to see you enter across the show bench and enter shows with a high volume of entries, where your entry will have to be flawless to make it. Bring your portfolio if you would like to go over anything as you are participating in shows, as staff, or an entrant, and acquiring points to test to become a Certified or Senior Judge.
Don't forget to enter your honey, hive products, and art into the Bee College Honey Show!
Friday, March 6: Introductory Honey Judge Training
Saturday, March 7: Advanced Honey Judge Training
*Note: there will not be a Senior Judge exam. For more information, please contact honeybee@ifas.ufl.edu
*For information about Honey Judge Training, please contact Ms. Glinda Burnett at gburnett@ufl.edu
Misc.
Refund requests will be honored in full if submitted prior to February 17th. No refunds will be granted on or after February 17th.
Registration will be 7:30am-8:30am on both days. Doors to the building will not be open prior to 7:30am.
Bee veils and other protective equipment will be provided for all in-hive courses, however, you are welcome to bring personal veils, suits, etc. if you would prefer.
Light refreshments will be available for attendees at registration, as well as drink refreshments throughout both days.
On both days, we will break for lunch for an hour, publix sandwiches will be served.
Schedule