Description

La Cité du design est heureuse d'annoncer sa collaboration avec Grow pour l'élaboration du premier programme Cross Company sur le sol français! L'occasion pour les professionnels du design de développer leur pratique au quotidien et de renforcer l'intégration du design dans la stratégie d'entreprise. En attendant le lancement de la première session à la rentrée 2016, nous vous proposons une première approche du design management, le temps d'un webinar gratuit de 45 minutes.
Ce webinar aborde l'essentiel du design management, illustré par des cas concrets tirés de la pratique quotidienne des plus grandes entreprises. 45 minutes d'inspiration pour gagner en efficacité, dégager un maximum de valeur ajoutée et se rapprocher de ses clients grâce au design management.
---
Speeddate with Design Management
Design can deliver great value to companies, and investing in design can bring a company big benefit. But only if it is managed well.
From understanding the types of design that play a role in the creation of your product, to linking with business strategies to forming a team, briefing it, presenting results and expanding services: a design manager covers all steps in the process and connects with many other functions within the organization. This is what design management entails in a nutshell.
In this webinar we will take you in 45 minutes through the basic principles of professional design management (1). Next to that you are not leaving empty-handed: You will get (2) the Speeddate with Design Management Livebook for iPad or PC with the content of the webinar, so you can always look back at it.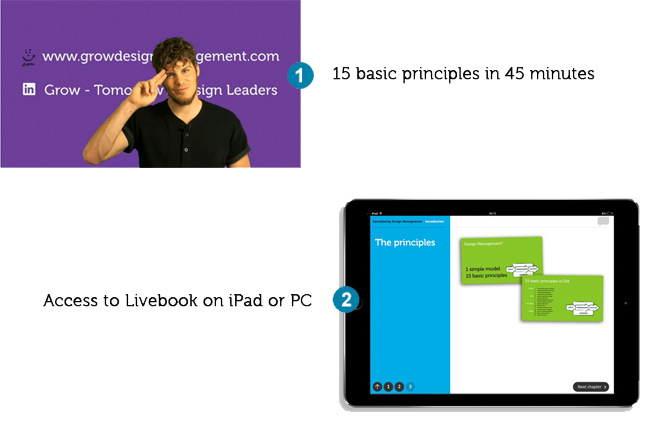 Look here at the opinions of some of the people who took this webinar before: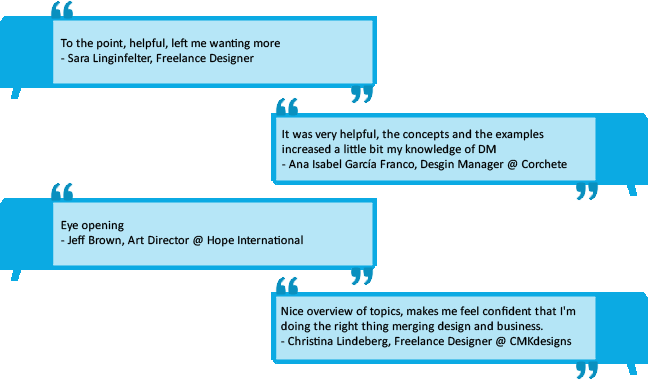 Don't hesitate anymore, join now in this free webinar and learn the basic principles of professional design management. It will be a great addition to your daily job.