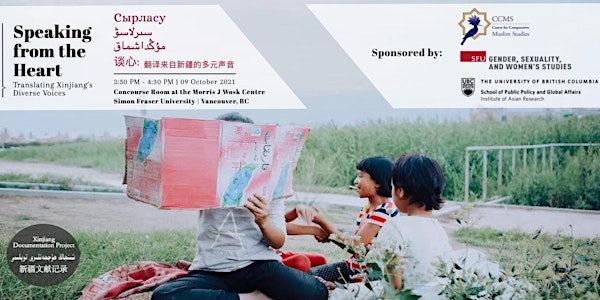 Speaking From the Heart: Translating Xinjiang's Diverse Voices
Highlighting the diverse Indigenous languages of Xinjiang, this event focuses on the importance of empathy and connection in translation
When and where
Location
Morris J Wosk Centre for Dialogue 580 West Hastings Street Vancouver, BC V6B 5K3 Canada
About this event
Language can serve as an important tool in decolonization; and in the creation of international solidarity and equity. For many, there is a language barrier when it comes to learning more about Xinjiang and its many cultures and current struggles. On the one hand, many victim testimonies collected by grass-roots agencies are only available online in Uyghur and Kazakh languages, and key policy papers and leaked documents in Chinese remain untranslated into English. On the other hand, English-language reporting and academic research are seldom translated into Chinese language. This event, featuring five researchers' work concentrating on the translation of testimonies and knowledge to the public, looks at creating an opportunity to include everyone in the conversation, regardless of language ability. Focusing on the importance of cross-cultural communication , this event will make sense of the Xinjiang crisis and discuss the politics and urgency in empathetic translation of the diverse languages in Xinjiang.
Presenters include:
Guldana Salimjan, Ruth Wynn Woodward Junior Chair of the Gender, Sexuality, and Women's Studies department at Simon Fraser University.
Darren Byler, Assistant Professor at the School for International Studies at Simon Fraser University
Elise Anderson, Senior Program Officer for Research and Advocacy at the Uyghur Human Rights Project
Kaster Bakyt, a multilingual translator based at Sheffield Hallam University
Sonya Pritzker, Associate Professor, Anthropology, at the University of Alabama.
Please join us for a reception after the event with complimentary refreshments from 4:30-6:30.
This event is sponsored by the SFU's Department of Gender, Sexuality and Women's Studies; the SFU's Centre for Comparative Muslim Studies; and the UBC's School of Public Policy and Global Affairs, and Institute of Asia Research. We thank them for their support in facilitating these important conversations.
Please note that we will be requiring masks, identification, and proof of vaccine in line with the public health orders from the Province of British Columbia.