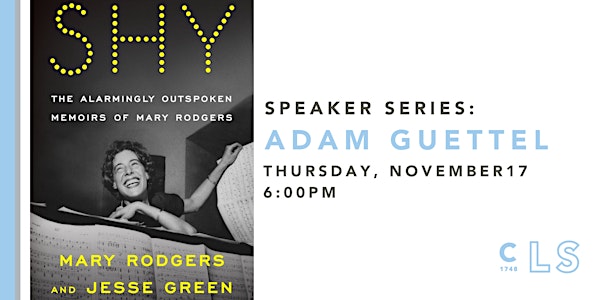 Speaker Series: Adam Guettel in Conversation with Anne Cleveland
Join the Library Society in welcoming Tony award-winning composer and lyricist, Adam Guettel, in conversation with Anne Cleveland.
When and where
Location
Charleston Library Society 164 King Street Charleston, SC 29401
Refund Policy
Contact the organizer to request a refund.
Eventbrite's fee is nonrefundable.
About this event
"Both a joyful chronicle of a life well lived and a box-seat view on some of the best, brightest, and most idiosyncratic creative minds of the 20th century." —Leah Greenblatt, Entertainment Weekly
Join the Charleston Library Society to welcome the Tony award-winning composer and lyricist from one of the most prolific musical theatre dynasties of the 20th century, Adam Guettel. As the grandson of Richards Rodgers and son of Mary Rodgers, Guettel will tell the story of his powerhouse grandfather and inspirationally larger than life mother. The intimate stories and memories are set through the context established in his late mother's memoir, Shy: The Alarmingly Outspoken Memoirs of Mary Rodgers, co-written by Jesse Green, the chief theater critic of The New York Times.
Our Executive Director Anne Cleveland will join Guettel in conversation as we delve into Shy, musical theatre, show business, and more. Guettel's carrying of the family's musical theatre torch and storytelling will surely delight anyone with appreciation for this American family with legacies larger than any one person.
Tickets are $10 for members and $15 for guests. Free for students by calling the number listed below and showing a valid ID at check in.
Order "Shy: The Alarmingly Outspoken Memoirs of Mary Rodgers" from Buxton Books in advance by clicking HERE.
About the Book:
The memoirs of Mary Rodgers—writer, composer, Broadway royalty, and "a woman who tried everything."
"What am I, bologna?" Mary Rodgers (1931–2014) often said. She was referring to being stuck in the middle of a talent sandwich: the daughter of one composer and the mother of another. And not just any composers. Her father was Richard Rodgers, perhaps the greatest American melodist; her son, Adam Guettel, a worthy successor. What that leaves out is Mary herself, also a composer, whose musical Once Upon a Mattress remains one of the rare revivable Broadway hits written by a woman.
Shy is the story of how it all happened: how Mary grew from an angry child, constrained by privilege and a parent's overwhelming gift, to become not just a theater figure in her own right but also a renowned author of books for young readers (including the classic Freaky Friday) and, in a final grand turn, a doyenne of philanthropy and the chairman of the Juilliard School.
But in telling these stories—with copious annotations, contradictions, and interruptions from Jesse Green, the chief theater critic of The New York Times—Shy also tells another, about a woman liberating herself from disapproving parents and pervasive sexism to find art and romance on her own terms. Whether writing for Judy Holliday or Rin Tin Tin, dating Hal Prince or falling for Stephen Sondheim over a game of chess at thirteen, Rodgers grabbed every chance possible—and then some.
Both an eyewitness report from the golden age of American musical theater and a tale of a woman striving for a meaningful life, Shy is, above all, a chance to sit at the feet of the kind of woman they don't make anymore—and never did. They make themselves.
"I've never read [a book about Broadway] more entertaining (and more revealing) than Mary Rodgers's Shy. Her voice careens between intimate, sardonic, confessional, comic. The book is pure pleasure — except when it's jaw-droppingly shocking." —Daniel Okrent, The New York Times Book Review
About Mary Rodgers:
Mary Rodgers (1931–2014) was an accomplished composer, author, and screenwriter. She was the author of the novel Freaky Friday and its 1976 screenplay adaptation, and of several other novels. Rodgers also wrote the music for Once Upon a Mattress, which was nominated for a Tony Award for Best Musical. She lived in New York City until her passing.