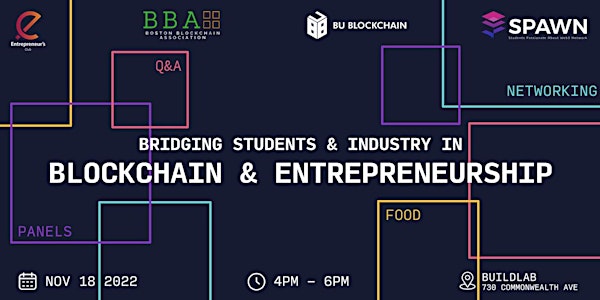 Spawn x BBA x BU Networking Event and Panel
Student x Industry Panel and Networking. Held at the Boston University BUild Lab.
When and where
Location
Boston University (BUild Lab) 730 Commonwealth Ave Boston, MA 02215
About this event
Spawn, Boston University and the Boston Blockchain Association are in collaboration to host an event bridging the gap between industry professionals and students looking to break into the blockchain ecosystem. This event will feature a Dinner followed by two panels and a networking session.
Organizers:
Boston Blockchain Association is a community of innovators, collaborators, and entrepreneurs who work to advance Blockchain technology, establish Boston as an individual hub for Blockchain innovation, and support and connect entrepreneurs with useful resources.
The BU Entrepreneurs Club aims to create a community of undergraduate founders at Boston University that ideate solutions to real world problems through forming meaningful relationships and taking risks.
BU Blockchain: is the only blockchain-focused organization at Boston University, focused on building a diverse community of students with varying backgrounds and levels of involvement of Web3 through guest speaker events, networking opportunities, and educational seminars.
Spawn: is bridging the gap between industries and students. Spawn is adding value to Clubs and Students by providing networking events and mentorship to navigate and achieve success within this new industry.
Who is this for:
This event is for students who are passionate about Blockchain, Emerging technologies and Web3. The goal of this event is to serve as an entry point or guidance into how you can enter this new space. Students will have the ability to network with professional's within the industry.
What to expect:
Student's should expect to see a vast amount of industry professionals from diverse background's. Students will meet key players from VC firms, Industries in the space, Entrepreneurs and likeminded people looking to innovate in a new ecosystem.
Industry professionals should expect to meet a vast amount of students looking to learn and immerse themselves in the blockchain industry. Students will be coming from different backgrounds technical or non-technical.
Schedule:
4 p.m. - 4:15 p.m. | Event Starts: Introduction and Reception
4:15 - 5:00 p.m. | Industry and Student Panel
5:00 - 6:00 | Dinner and Networking Hour
Note: Anyone is welcome to stay after 6 until 7:30 p.m.