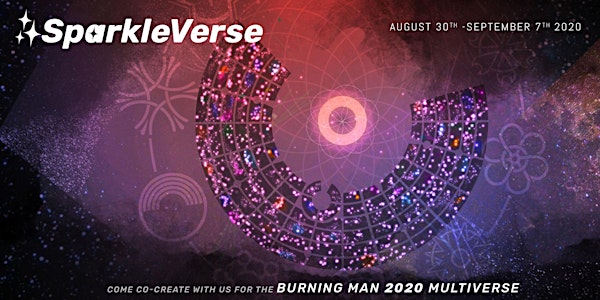 SparkleVerse - 2020 Online Burn
Venture to virtual Black Rock City for an unforgettable week of art, camps and experiences on SparkleVerse's digital playa.
Refund Policy
Contact the organizer to request a refund.
Eventbrite's fee is nonrefundable.
About this event
Burning Man 2020 is taking place online as a MULTIVERSE.
Come to SparkleVerse to enjoy connection, shared magic and states of outlier consciousness.
SparkleVerse is a place where you can bring your friends on roaming adventures across our digital playa. What might you find? Who might you meet? What fun is to be done?
What is SparkleVerse?
SparkleVerse is a virtual experimental city made from concentrated creativity - featuring art, camps, performances and experiences. These co-created places and spaces, built by people connected from across the World, are organised via an interactive map.
How does SparkleVerse work?
SparkleVerse is like a cross between Google Maps, a video game, an art gallery and video chat system. It functions like a serendipity & creativity engine - allowing participants to mingle with those in close proximity while co-experiencing magical spaces and performances.
It is accessible via any mobile or web browser.
If you wish to create art, performances, magic moments or camps to share with others, our our tools and guides make this easy. SparkleVerse is built out of mini-adventures made by people just like you to share.
What to do next?
Get ready for this once-in-a-lifetime adventure made for the history books.
You'll have 7 DAYS to...
marvel at endless art installations
explore tons of camps with unique around-the-clock programming
immerse yourself in experiences from discussions in the goddess temple, to world-renowned DJs, to cosplay, to fire performers, to live musical guests, to more than anything you could imagine
There are hundreds of artists from all over the world curating hundreds of experiences, camps and art pieces for you to participate in! After all, there are no spectators at Burning Man.
All you need is a Zoom account and a web browser to be part of the magic. Gift yourself this time to transport to a universe never seen before: SparkleVerse. Please note: SparkleVerse is for Adults only (18+ years old.)
All tickets are donation based; SparkleVerse is a not for profit event; other than some minor overheads, all proceeds will be gifted to Burning Man Org and via artists grants.
We look forward to seeing you in the digital dust.
With love,
The SparkleVerse Team
For more info, visit https://sparklever.se/
For even more info, like https://www.facebook.com/sparkleversebm
Invite all of your friends on Facebook at https://www.facebook.com/events/290140342206436/
SparkleVerse is a recognised universe of the Burning Man 2020 Multiverse.
SparkleVerse is licensed by BurningMan Project, a 501(c)(3) nonprofit organization, to use certain Burning Man intellectual property in alignment with the 10 Principles, but Burning Man Project is not a producer or organizer of SparkleVerse.
SparkleVerse is a not-for-profit project wholly operated by SparkleVerse Ltd, a company limited by guarantee without share capital registered in England and Wales with company number 12821153. SparkleVerse Ltd address is Third Floor, 207 Regent Street, London, W1B 3HH, United Kingdom