SPARK with Mehrsa Baradaran :: On the Racial Wealth Gap
A conversation with Law Professor, Mehrsa Baradaran to investigate the racial wealth gap and what a path to economic justice looks like.
About this event
This is a virtual event that will take place via Crowdcast. Once you register on Eventbrite, you will receive a link to join the Crowdcast.
Black Americans have never owned more than a disproportionately small fraction of the nation's wealth. In her book, The Color of Money, Mehrsa Baradaran highlights how credit policies and housing policies have embedded inequalities that have become self-perpetuating and challenges the notion that black banks and community self-help -- championed by activists and presidents alike -- can meaningfully reduce the racial wealth gap. Join us for a conversation with Mehrsa about how we got here and what a path to real economic justice might look like.
Copies of Mehrsa's book The Color of Money will be distributed to the first 25 Barnard student attendees.
Our Speaker:
Mehrsa Baradaran is a Professor of Law at UCI Law. She writes about banking law, financial inclusion, and racial inequality, and is the author of How the Other Half Banks and The Color of Money: Black Banks and the Racial Wealth Gap.
The Color of Money: Black Banks and the Racial Wealth Gap was awarded the Best Book of the Year by the Urban Affairs Association, the PROSE Award Honorable Mention in the Business, Finance & Management category. Baradaran was also selected as a finalist at the 2018 Georgia Author of the Year Awards for the book in the category of history/biography.
Mehrsa and her books have received significant national and international media coverage and have been featured in the New York Times, the Atlantic, Slate, American Banker, the Wall Street Journal and Financial Times. She has advised U.S. Senators and Congressmen on policy, testified before the U.S. Congress, and spoken at national and international forums like the U.S. Treasury and the World Bank.
About SPARK:
SPARK is a series of provocations and conversations designed to ignite your thinking about change and how it happens. Through interviews, book talks, field trips, film screenings, and more, you'll get to know the women and nonbinary people leading change in a wide range of areas, and learn more about the hard, but important, work of building a better future. SPARK is open to all members of the Barnard community, including faculty, staff, alumnae, and friends of the college.
Funding for SPARK is provided by The Harnisch Foundation.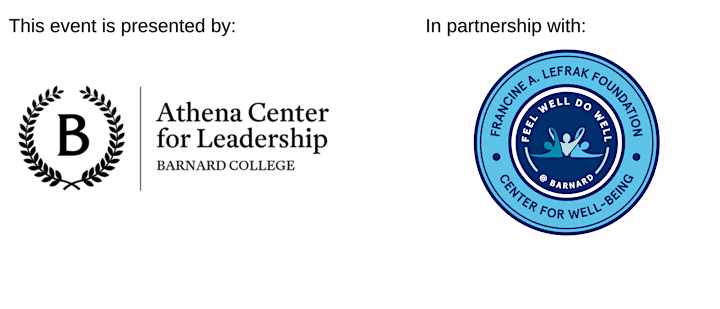 This event is cosponsored by the Francine A. LeFrak Foundation Center for Well-Being at Barnard College as well as Undesign The Redline @ Barnard.
Barnard College provides reasonable accommodations for individuals with disabilities. If you need individual disability-related accommodations for this event in order to be able to attend, we encourage you to inform us in advance in order for us to accommodate you. Possible accommodations can include real-time captioning, ASL interpretation, Braille handouts, wheelchair accessibility and more. Specific individual requests can be made via our department's email: athenacenter@barnard.edu or by filling out the Event Accessibility Request Form.
Organizer of SPARK with Mehrsa Baradaran :: On the Racial Wealth Gap
The Athena Center for Leadership at Barnard College was established in fall 2009 with an ambitious goal – to create a world renowned center dedicated to the advancement of women leaders. Not just any women leaders, but women who are visionary, bold, courageous, resilient and globally aware; women who embrace diversity and are determined to make the world a better place.
We are building a world where leadership is constantly re-imagined to reflect the needs of women and society and where it is commonplace for women to attain and exercise power.