Description
March 8-11, 2018 | Class Fee: $980
Experience Level: Intermediate
Class Size: 10 participants max
Disclosure: Beadmaking tools, food, transportation and lodging is not included.
CLASS DESCRIPTION: This eventful four-day class will explore the art of glass beadmaking. Participants will begin with learning the technique of blowing hollow beads off-mandrel and understanding the technicalities of working with different colors of glass and blowing beads, blow shards, pulling ultra-fine stringers and how to make three different color twisties! Students will then move into exploring the technique of enamel painting in the flame of the torch with powdered enamels and fine stringers. Also, create works of art on the beads while learning the theory of when and where to heat the glass when using stringers, how to pull hair-fine stringers, and learn how to draw straight and curved lines with stringers. Finally, students will explore the art of creating Op art beads: creating a checker board design on the bead and working with designs on the back to create a three-dimensional effect when viewing the bead from the front.
Samples of the shapes and type of decorations students will do (colors will not be the same):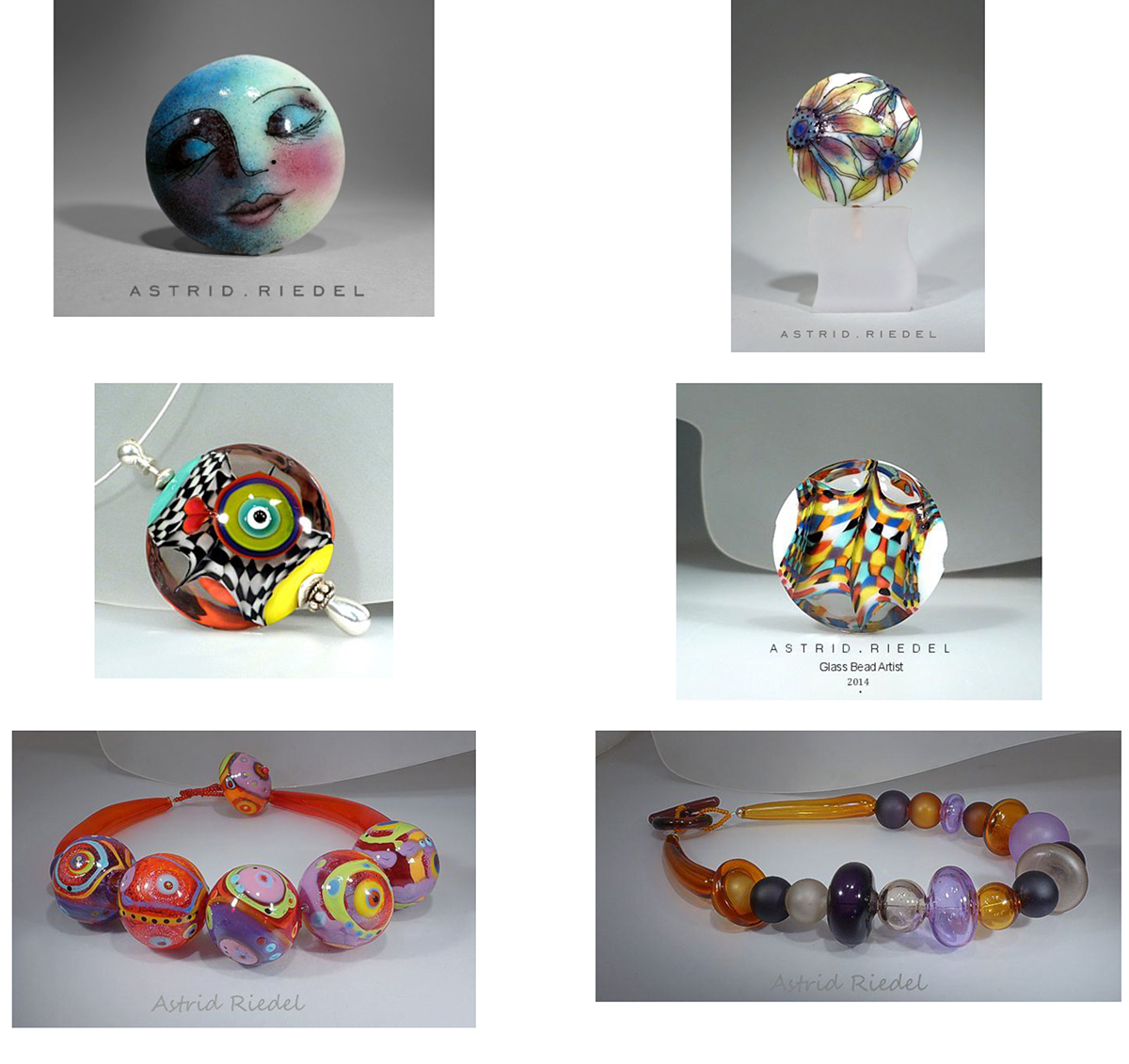 YAYA will provide the following glass needed for this class. For additional colors, please purchase from your preferred supplier.
Also, specific tools are required and they are listed below. Please be sure to bring your own tools because there will be no sharing in class.
Click here to view tool and glass requirements. For any questions, please email mari@yayainc.org
ASTRID RIEDEL lives in Pretoria, South Africa, but is originally from the Netherlands. She has devoted the last 13 years solely to glass art. Riedel's background lies in jewelry manufacturing as a goldsmith, and as a hobby she loved to paint (both have been neglected since her affair with melting glass). Astrid Riedel has an insatiable need to push the boundaries in glass bead art and to try new ways to add techniques into the beads, from both glassblowing and other art forms. The beads she loves right now are the "Face it" series beads which are "painted" in the flame of the torch and the off-mandrel hollow beads. She loves to decorate them with shards, twisties, dichroic glass, murrini and enamels. It has taken a lot of practice and Riedel is still perfecting the techniques daily. It has opened up endless new possibilities for her and she loves to create wearable glass art necklaces, with the least amount of non-glass materials. Besides beadmaking, Riedel loves teaching and this has been a big part of her life for the last seven years and she loves to pass on her latest techniques! In return, Astrid Riedel feels so grateful to be asked to teach and to experience countries that she would never have had the opportunity to see, and the amazing friends she has made on her travels around the world.


Register here, or give us a call at 504.529.3306 to avoid transaction fees.
The YAYA ARTS CENTER is a non-profit facility that provides multi-media arts training for people of all ages. Your participation in YAYA classes directly supports free arts education programs for New Orleans youth.
Cancellation Policy: Fifty percent (50%) of the workshop fee will be forfeited should the attendee cancel within two weeks prior to the scheduled date of the class. Seventy-five percent (75%) of the workshop fee will be forfeited should the attendee cancel one week prior to the class. Should the attendee cancel within twenty-four (24) hours of the class, one hundred percent (100%) of the workshop fee will be forfeited.