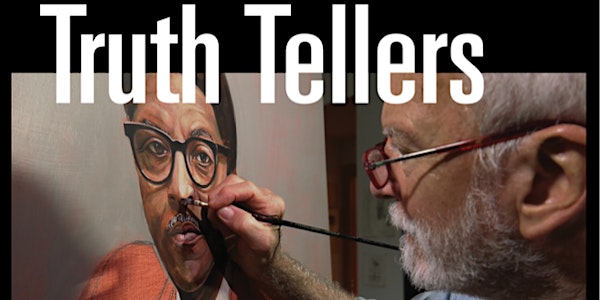 SPARK:: A Screening of Truth Tellers and Conversation with Maulian Dana
Join us for a *virtual* SPARK screening of Truth Tellers and and Q&A with activist Maulian Dana on October 13 at 6pm.
About this event
*This is a virtual event. You will receive a link to watch the film and join the Q&A upon registration.*
Truth Tellers is a new documentary film chronicling the lives of courageous Americans fighting for peace, racial equity, environmental justice and indigenous rights through the eyes of Robert Shetterly, a long time activist and artist. The film explores the intersection of these issues stressing the urgency of coming together to confront them and galvanizing our resolve to uphold our country's founding ideals. Truth Tellers is both a story of Shetterly's art and activism and a history lesson of what is required of a citizen in a democracy.
What are the intersections of art and activism? Why is it necessary to immortalize stories of change? We'll explore this and much more in the Q&A with activist Maulian Dana, on her experience as an avid change maker and her collaboration with artist Robert Shetterly.
This event is being held in partnership with Barnard's Department of Sociology.
SPARK is a series of provocations and conversations designed to ignite your thinking about change and how it happens. Through interviews, book talks, field trips, film screenings, and more, you'll get to know the women and nonbinary people leading change in a wide range of areas, and learn more about the hard, but important, work of building a better future. SPARK is open to all members of the Barnard community, including faculty, staff, alumnae, and friends of the college.
Funding for SPARK is provided by The Harnisch Foundation.
Barnard College provides reasonable accommodations for individuals with disabilities. If you need individual disability-related accommodations for this event in order to be able to attend, we encourage you to inform us in advance in order for us to accommodate you. Possible accommodations can include real-time captioning, ASL interpretation, Braille handouts, wheelchair accessibility and more. Specific individual requests can be made via our department's email: athenacenter@barnard.edu or by filling out the Event Accessibility Request Form.