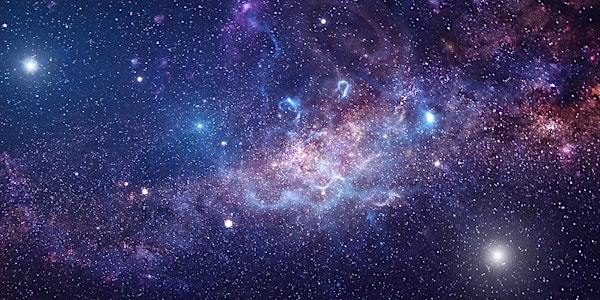 SpaceATX: Space the Next Frontier: Exploring Space, Travel and Colonization
Location
Auditorium at the Blanton Museum
200 East Martin Luther King Junior Boulevard
Auditorium
Austin, TX 78712
Refund policy
Refunds up to 30 days before event
Description
8:30 a.m. to 9 a.m. - registration
9 a.m. to 10 a.m.: Opening Keynote speaker: Space Junk presentation by Moriba K. Jah, director of the Advanced Sciences and Technology Research in Astronautics (ASTRIA) program, and Associate Professor of Aerospace engineering and Engineering Mechanics in the Cockrell School of Engineering at The University of Texas at Austin.

10:00 a.m. to 11 a.m.. - The Future of Everything in Space by Hypergiant - presented by Marc Boudria, VP of AI and Greg Carley, VP of Product Innovation.
11:00 a.m. to 11:30 a.m. - Firefly: Making Space for Everyone - presented by Eric Salwan, Firefly's director of commercial development. Firefly Aerospace, a privately-held company, founded in 2014, is developing small and medium-sized launch vehicles for commercial launches to orbit from its headquarters in Cedar Park, North Austin. It plans to launch its first rocket soon. It has launch facilities in Cape Canaveral, Florida and at Vandenberg Air Force Base in California.
11:30 a.m. to 11:45 a.m. - Building Colonies in Space: UTSA professor Professor Arturo Montoya is working on a NASA contract in collaboration with Perdue University to design and operate resilient deep space habitats that can adapt, absorb and rapidly recover from expected and unexpected disruption.
11:45 a.m. to Noon - Hypersonics and the New Space Race presented by Christopher S. Combs, Dee Howard Endowed Assistant Professor of Aerodynamics at UTSA, will overview the significance of hypersonic flight, from impacts on missions to the Moon and Mars to potential breakthroughs in air travel.
Noon to 12:30 p.m. - The Space Revolution - And Why it Matters presented by Rick Tumlinson, co-founder of several space companies and non-profits including Deep Space Industries, Orbital Outfitters, the New Worlds Institute, and the Space Frontier Foundation. By the end of next year, the first space tourist flights will begin, and space travelers will board the first commercial rocketships and fly into orbit. Richard Branson, Jeff Bezos, Elon Musk and others not so well known are putting their money and reputations on the launch pad to begin the opening of the space frontier. New entrepreneurial companies are on the scene too, with goals ranging from lunar landings to asteroid mining. The US, European and Chinese governments are planning lunar outposts, while some politicians question why we should be reaching for the stars at all.
Thank you to our sponsors: Hypergiant, UT Center for Space Research, ATX Venture Partners, Egan Nelson, and Silicon Hills Lawyer.