Description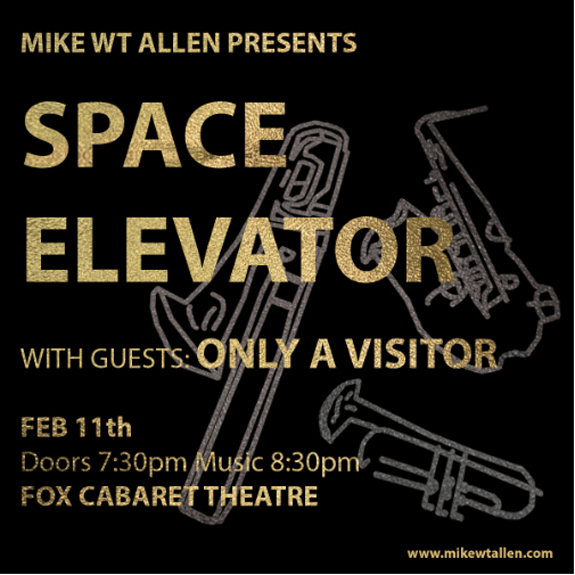 Mike WT Allen presents Space Elevator.

Experimental big band music played by 19 of Vancouver's finest musicians.
Taking big band music to places it has never been before, things will be crazy, loud, and unforgettable. You might want to bring ear plugs.

Featuring the talents of:
Trumpets: Jocelyn Waugh, Erik Engholm, Michael Coury, Heather Anderson
Trombones: Nicky "Hotlips" Walsh, Harrison Rose, Andrew Radke, Keith Mclean
Saxes: Brent Mah, Ridley Bishop, Dominic Conway, James Martin, David Brown
Guitars: Curt Henderson, Thomas Hoeller
Keyboards: Terence Trusdale
Bass: Nikko Whitworth
Drums: Eliot Doyle, Max Ley

Opening the evening is Vancouver's own avant-pop outfit Only A Visitor.
Combining vocal harmonies, complex rhythms, and contrapunctal melodies, Only A Visitor creates music unlike anything you've heard before.

www.onlyavisitor.com
www.facebook.com/onlyavisitor

Visuals by Jacob Peters

Hosted by the incredible and timeless Fox Cabaret
2321 Main St, Vancouver

Doors at 7:30
Music at 8:30
Tickets $10 in advance, $15 at the door, $10 for students (Must Present ID at the Door).