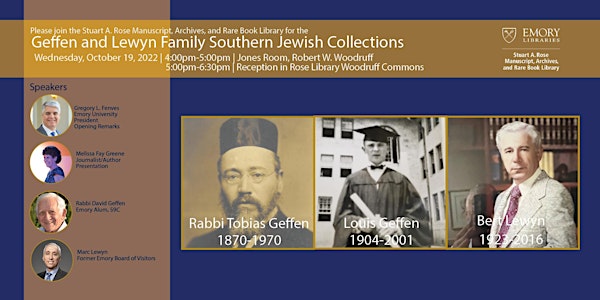 Southern Jewish Collections Program and Reception
Geffen and Lewyn Family Southern Jewish Collections Research Fellowship Launch and Celebration
When and where
Location
Jones Room, 3rd Floor & Rose Library Woodruff Commons, 10th Floor Robert W. Woodruff Library, Emory University 540 Asbury Circle Atlanta, GA 30322
About this event
Dear Friend of Emory Libraries:
You are warmly invited to join us on October 19, 2022 to celebrate the launch of the Geffen and Lewyn Family Southern Jewish Collections Research Fellowship and the opening of the newly processed Southern Jewish History Collections.
The celebration will be opened by Emory President Gregory L. Fenves. He will introduce a talk by journalist Melissa Fay Greene, author of the 1998 award-winning book, "The Temple Bombing," who will talk about using the Jacob M. Rothschild papers in the Rose Library archives to write her book.
Following Melissa, Rabbi David Geffen 59C will detail the influential Geffen family that was established in Atlanta by his grandfather Rabbi Tobias Geffen, an American Orthodox rabbi who served as the leader of Congregation Shearith Israel from 1910 to 1970 and who is well known for his 1935 decision that certified Coca-Cola as kosher. Marc Lewyn, a former Emory Board of Visitors member, will close out the event by connecting all of the stories to broader themes in the Jewish experience. Marc is the son of Bert Lewyn, author of the book "On the Run in Nazi Germany," whose family papers are held in Rose Library.
This program was made possible with thanks to the Geffen and Lewyn families whose vision it is to provide students and other researchers better access to the human experiences documented in Rose Library's Jewish collections, supporting new generations of scholars.
For more information, please see the article. We look forward to seeing you on October 19!