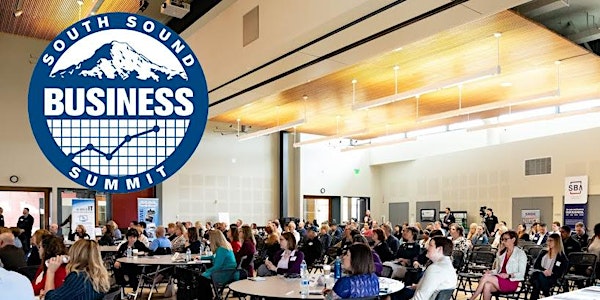 South Sound Business Summit- LIVE Event- 8th Annual
2023 South Sound Business Summit
By South Sound Business Summit
Date and time
Thursday, May 4 · 8:30am - 12pm PDT
Location
McGavick Conference Center 4500 Steilacoom Boulevard Southwest Lakewood, WA 98499
About this event
3 hours 30 minutes

Mobile eTicket
2023 South Sound Business Summit (Live In-Person)
Tickets: $47 General Admission
SUMMIT WILL KICK OFF: Thursday May 4, 2023 8:30 am- Noon
McGavick Conference Center- Lakewood
All profits will be provided to Small Business Development Center of Washington
For more information about the South Sound Business Summit visit: http://www.southsoundbusinesssummit.com
WHAT IS THE EVENT?: Founded in 2015, The South Sound Business Summit's purpose is to support South King, Pierce and Thurston County business owners and C-suite managers through a forum where you can learn business, leadership and marketing from market leaders who want you to succeed.
WHY DOES THIS EVENT EXIST?: We believe that the local business community needs a place to learn from other business owner's success and failures, marketing techniques and other ways to grow and expand your business. We do this to give back, not to make a profit, so that everyone can succeed in business.
WHO SHOULD ATTEND?: Business owners, managers and entrepreneurs looking to make the most of their business, employees and profitability. Businesses with large or small revenue should attend; the topics help all businesses regardless of size.
____________________________________________________________________
Keynote Speaker:
The 13 principles Ivar's uses to manage itself, and how Ivar's has survived corona
Bob Donegan, CEO Ivar's Seafood
Bob Donegan helps manage Ivar's from its headquarters on Seattle's waterfront. This is the company's 85th year I business with stores throughout Puget Sound. He joined Ivar's in 1997 and became President on the death of one of his partners on 911.
In addition to Ivar's, Bob volunteers with the Seattle Aquarium, The Historic Waterfront Association, the Seattle Chamber of Commerce, the Seattle Sports Commission, the Chief Seattle Council of the Boy Scouts, and the Seattle branch of the San Francisco Federal Reserve bank. Bob and his wife live in Richmond Beach just north of Seattle.
_____________________________________________________________________
Ride or Die – Following Your Passion!
Nancy Giacolone, Owner Olympic Crest Insurance
Ride or Die" is a catchy title, but what does that mean? I think most of us want to "ride" into or pursue our vision, because when we don't there is a little piece of us and our dreams that "die." I will share some steps to help you ride into your own vision.
Nancy is the founder of Olympic Crest Insurance, a boutique benefits consulting agency. She also is the host of the popular podcast "Recipe for Success."
In addition, she has been recognized multiple times within her industry, the most recent being the "Lifetime Achievement Award" for leadership & excellence in the benefits industry at the YouPowered Symposium. She is also a 2023 finalist for the BenefitsPro Broker of the Year.
She loves to use her life lessons and passion for helping others through speaking, mentorship and coaching. When not wearing her many work hats, she loves to cook, spend time with her family and 3 dogs.
______________________________________________________________________
Why Don't My Employees 'Get It'?
Brian Harding, Not a coach. A proven growth and employee problem solver
One of the most frustrating things for business owners and leaders is feeling like their employees just don't "get it". We regularly explain to our team what is needed to take care of our customers, and yet we still frequently find ourselves dealing with the consequences from missing the mark. Brian Harding shares some of the most common reasons this happens and provides solutions we can put in place to stop this from happening.
Brian Harding is an author, professional keynote speaker, podcaster, and business consultant for entrepreneurs in service industries who want to build a business that can run without them. He has more than 15 years' experience owning and operating a service-based business, and more than 25 years' experience managing employees. Brian is a leading authority on developing and improving proven, practical service business strategies and processes, and uses his experience to guide his clients to attaining the freedom they want from their business, as well as discovering the peace of mind which results from empowering their employees to make sound decisions. Brian and his wife Stacy primarily live in Anthem Arizona, where they enjoy spending most of their time outdoors, enjoying the warm weather.
Thank you to our 2023 Sponsors
Service Industry Success-Brian Harding
Paul T Long- Trusted Business Lender for the South Sound
Auburn Chamber of Commerce
Gig Harbor Chamber of Commerce
Thurston County Chamber of Commerce
Puyallup/Sumner Chamber of Commerce
Funds contributed toward this event are not tax deductible. This is a crowdfunded event and is not run by any business or entity.
About the organizer
253-671-3037
www.southsoundbusinesssummit.com
hello@southsoundbusinesssummit.com