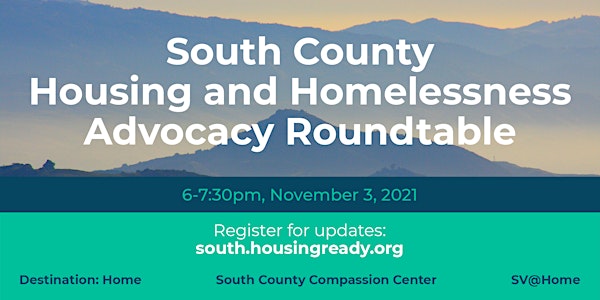 South County Housing and Homelessness Advocacy Roundtable
Join neighbors and advocates to share housing and homelessness priorities and action opportunities in South County.
Date and time
Wednesday, November 3, 2021 · 6 - 7:30pm PDT
About this event
South County Advocates Come Together
A roundtable discussion with neighbors and advocates to discuss advocacy for affordable housing and other homelessness solutions in southern Santa Clara County.
Please register to receive the video meeting access link. Help grow the movement by inviting a friend or two to join you!
The meeting will be co-facilitated by Destination: Home, South County Compassion Center and SV@Home. All friends and advocates are welcome!
Please share the registration link: https://south.housingready.org
Now is Time for Action
The purpose of the meeting is to bring partners, supporters and friends from Gilroy, Morgan Hill and San Martin together so that we can share and learn about advocacy priorities and opportunities from individuals and organizations present.
We will start with a presentation of upcoming opportunities for advocacy (we will call them "tools and resources"), then take some time to brainstorm and discuss specific priorities related to housing and homelessness. We will finish up with a discussion about what is next, and how people might work together moving forward.
AGENDA
Tools and resources (What help do we have? What opportunities?)
Advocacy priorities (What do we want?)
Next steps (What do we do next?)
To provide a few examples, some upcoming opportunities (tools and resources) that we have heard about recently include cities' endorsement of and implementation planning for the Community Plan to End Homelessness, the housing element process, and increasing local interest to advance new programs and policy to address homelessness and affordable housing needs.
Some examples of advocacy priorities recently pursued by individuals and organizations in South County are identification of more sites for deeply affordable housing and supportive housing, city support for safe parking programs, additional resources for case management and outreach work.
What priorities and opportunities will you bring to the table? We hope you will join us so we can learn and discuss together.
Nota especial: Desafortunadamente, esta reunión será solo en inglés. Sin embargo, si estas interesado en unirte a nosotros, háganoslo saber y programaremos una reunión en español: action@housingready.org
Learn about Homelessness and Affordable Housing
Join our Housing Ready Communities team for an Intro to Homelessness and Supportive Housing Workshop on Wednesday, November 17 at 6:00pm. Information and registration on our Eventbrite profile page.
El taller también está disponible en español.
About the organizer
Destination: Home is a public-private partnership ending homelessness in Silicon Valley. Through our collective impact model, we incubate new ideas, advocate for policies, and fund impactful strategies that address the root causes of homelessness and help ensure that our most vulnerable neighbors have a stable home.