Sound + Vision Exhibition and Closing Party

Saturday, October 31, 2015 from 7:00 PM to 10:00 PM (EDT)
Event Details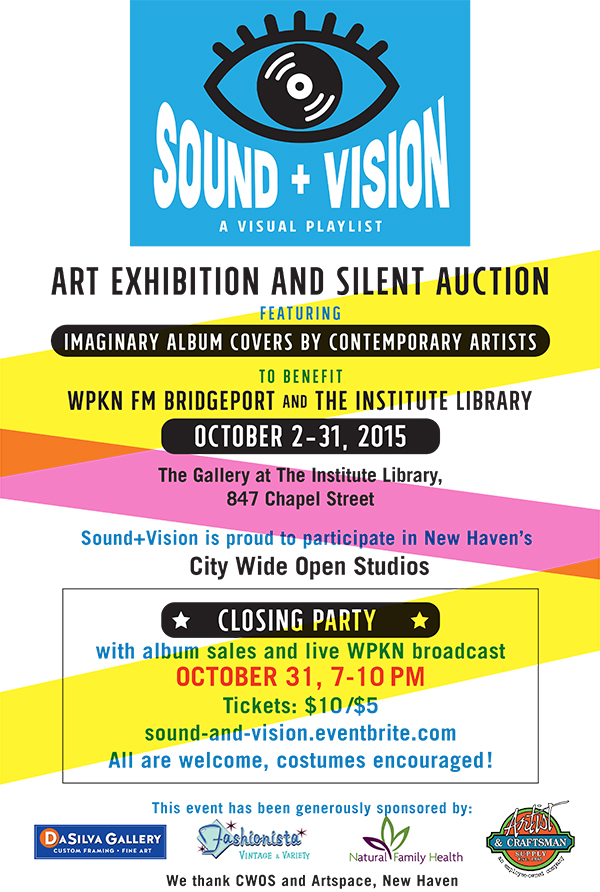 Please join us Saturday, October 31, from 7:00 to 10:00PM for the "Sound&Vision" Closing Party and Silent Auction!
WPKN programmers Chris Ruggiero (Preservation Sound) and Jason Bischoff-Wurstle (The Relay) will be broadcasting live on the radio from the library stacks playing 3 hours of strictly vinyl records. There will be food and drinks and plenty of original artwork to bid on in the silent auction.
The party starts at 7:00 and you can bid as often as you like through 9:00 when we will announce the winners. There will also be records for sale from the WPKN Music Mash. Halloween costumes are encouraged!
All proceeds from the evening go to support the Institute Library and WPKN 89.5 FM.
Participating Artists:
Alexis Brown
Allan Greenier
Andres Madariaga
Andrew Wallach
Anna Russell
Artist & Craftsman
Bart Connors Szczarba
Beth Lovell
Charles Zuppardi
Colleen Reilly-Rees
David Borawski
David Coon
David K Thompson
Deborah Weiss
Dennis and Krissy Maksymiw
Dustin Byrne
Ellen Hackl Fagan
Erika Ayala
Eva Mantell
Evie Lindemann
Frank Cochran
Geoffrey Detrani
Hilary Opperman
Ileana Garcia
Jeanne Kenney
Jeffrey P. Yates
Jennifer Van Elswyk
Jessica Smolinski
Joan Fitzsimmons
Joe Buberger
John Mordecai
John O'Donnell
Joyce Acebo~Raguskus
Julia A. Coash
Justin Shay
K. Levni Sinanoglu
K. Piascyk
Karen Loprete
Kate Henderson / Jeff Becker
Kathleen DeMeo
Ken Lovell
Kris Tonski
Krissy Maksymiw
L Jazwiecki
Lou James (Lewis Rapuano)
Lys Guillorn
Maria Lara-Whelpley
Martha Willette Lewis
Matthew Reiniger
Maura Galante
Megan Czekaj
Michael Quirk
Molly Reiniger
Pam Erickson
Pamela Tournier
Pete Stewart
Peter Haller
Robin Hoffman
Rod Richardson
Sam Sigg
Scott Shapleigh
Stephen Grossman
Sidney Harris
Valerie Richardson
When & Where

The Institute Library
847 Chapel Street
New Haven, CT 06510


Saturday, October 31, 2015 from 7:00 PM to 10:00 PM (EDT)
Add to my calendar
Organizer
The Institute Library
"The object of this Institute shall be mutual assistance in the attainment of useful knowledge."
Sound + Vision Exhibition and Closing Party