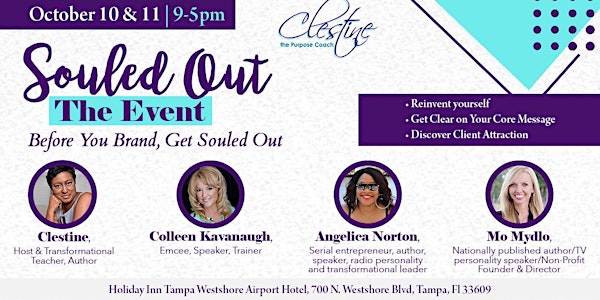 Souled Out - The Event
By Clestine, the Purpose coach
Date and time
October 10, 2019 · 8:30am - October 11, 2019 · 5pm EDT
Location
Holiday Inn Tampa Airport Westshore Hotel 700 N. Westshore Blvd Tampa, FL 34609
Description
Need clarity of the purpose your business is created for?
Want some clarity on your soul message; your core message?
SOULED OUT The Event is about committing to God, your purpose and the soul message He gave you.

Have you ever said...
"I invest in all these programs but then I don't do anything with it"
"I know what to do but why aren't I doing anything with it?"
"I don't want to do anything until I know that my message is clear to my tribe"
"I share what I do but I don't think people understand what I'm saying...they don't get it!"
"Why would anyone want to hire me?"
You see so many women of faith in business are struggling with what most of my clients who first come to me are struggling with. They are...
unclear on their purpose
unclear on their soul message (core message)
not courageous enough to niche down
lacking a step-by-step, repeatable strategy to follow

If you are...
-not sure where you fit or what God wants you to do next


-feel like people aren't connecting with your core message


-feeling like your business and your faith don't fit together


-too scared to nail down your niche --your God ordained purpose--and become a specialist


- constantly watching webinars but NOT implementing


-indecisive and lack confidence


-easily overwhelmed


-secretly jealous or frustrated when you see others succeeding


then The Souled Out Conference is for you.


You'll discover


- how to attract your soul-mate (ideal) client


- how to craft a powerful soul (core) message that attracts


-learn how to become an influencer


-how to build confidence


-how to include God in everything


and more


Together we're going to help you to get clarity of your message, and courageous enough to redefine your purpose and boost your boldness.
When you are committed to someone or something your mind is made up and every decision after that focuses on what you've made up in your soul (mind, will and emotions) to do. R E G A R D L E S S!!!


Join other women of faith in business as together we reinvent ourselves to be SOULED OUT to God and the call He's placed on our lives on October 10&11 in The Holiday Inn Tampa Westshore Airport, Tampa, FL


FEATURING GUEST SPEAKERS
ANGELICA COLE, RADIO HOST, BUSINESS STRATEGIST
Mother, Author, Speaker, Faciitator & CEO of one of the fastest growing Entrepreneurial Coaching Businesses in the state of Florida. SeedSowingSister & Co. purpose is to empower, inform and educate individuals pursuing their purpose of entrepreneurship.
Angelica's background of growing up in poverty, positioned her for opportunities she would never have dreamed of.
MO MYDIO, FOUNDER OF UNFORSAKEN WOMEN
Nationally published author/TV personality/speaker/Non-Profit Founder & Director
Mo has been happily married to her husband Tommy for over 20 years. She has 4 children and recently become a MiMi to her sweet grandson. Mo's greatest passion in life is serving Jesus through her writing, teaching and non-profit ministries. Her life's mission is to disciple women and help them renew their minds using the Word of God.
About the organizer
Clestine, the Purpose Coach is your host and main speaker for this transformational conference, Souled Out - The Event.  She has been in business since 2003, helping multi-gifted, heart-centered and God-centered women build authentic, successful businesses.  She is the developer of the Self-Mastery System, and the The Souled Out Method, author of Knuggets of Knowledge to Get Unstuck and The Art of Convincing Yourself.  
She has a full line of CD's DVD's designed to help you to continue to elevate your success mind, build your unique business and stand in your Divinely Bold persona!  She is a master at helping you get clarity and knowing how you will shine on the many facets of your mutli-gifted, multi-tasking persona, then supporting you in a business that can embody and encompass all that you do and all that you are- in Him!  And she teaches you one-step-at-a-time so that you can recreate success over and over again. 
She is loved by audiences because of her energy, creativity and empowering nuggets that combined provide life changing experiences.  She looooooooooves people, so she's looking foward to meeting you [Make sure you get a hug from her]  If you can't wait til the conference, get your journey started with Coach Clestine at www.TalkToClestine.com