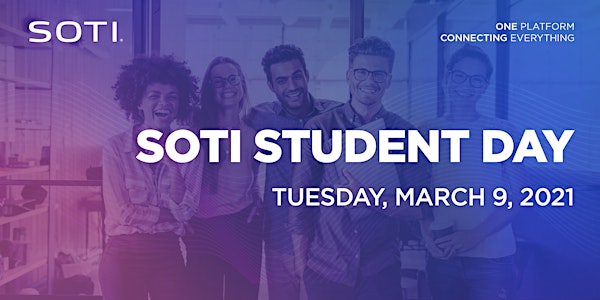 SOTI Student Day - Virtual Event
SOTI is inviting you on a virtual field trip to our headquarters to explore our company's endless career possibilities!
About this event
We Want To Meet You!
SOTI is the world's most trusted provider of mobile and IoT management solutions. We're looking for passionate people to join us, including the next generation of talented individuals for our 2021 co-op and internship opportunities, and roles for upcoming grads in the Computer Science and Engineering fields.
Come join us and explore our company and the endless possibilities that are awaiting you. Please click Register now to confirm your attendance for our event on Tuesday, March 9, 2021 from 3:30 p.m. to 5:30 p.m. ET.
During our virtual event, you will hear from our leaders and interns, and learn about working for a proudly Canadian-owned and operated company. You will also hear about available career paths and our award-winning suite of products. We will then conclude the event with a question and answer session where you will have an opportunity to win prizes.