For the fans, by the fans. SopranosCon returns alongside MobMovieCon for two cons in one. An event you can't refuse! April 24-25, 2021
About this event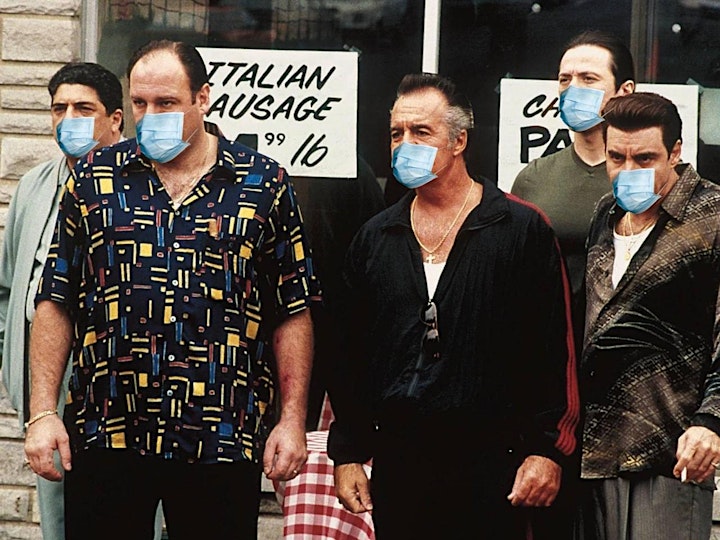 UPDATE 11/28/20: EVENT POSTPONED TO JULY 24-25, 2021
Famiglia! While we believe there will soon be light at the end of the tunnel, we are committed to bringing our fans the best overall experience possible.
We have been communicating regularly wiith Caesar's Entertainment in an effort to evaluate and implement the safest and most efficient way to proceed. To avoid any further potential issues related to COVID-19, travel concerns, and to ensure the safety of our talent, staff, fans and families, we have decided to postpone MobMovieCon and SopranosCon to July 24-25, 2021.
We apologize for any disappointment or inconvenience, however we feel this is the best course of action. All tickets purchased for the original date, or any of the postponement dates, will be honored in July.
We appreciate your cooperation and understanding.
-3fams Productions
UPDATE: EVENT POSTPONED TO APRIL 24-25, 2021
Famiglia
At 3Fams Productions, we are committed to bringing you the best events possible.
And that's exactly what my partners and I had in mind when we put together MobMovieCon — more than just a "sequel" to the wildly successful SopranosCon, MobMovieCon aimed to celebrate Mafia culture, films, and television shows in an experiential way.
Our event resonated with you all, and we cannot thank you enough for the support.
Unfortunately, due to the threat of COVID-19, better known as Coronavirus, we cannot — in good faith — put the safety of our staff, our actors, and most of all YOU, our attendees, at risk.
So, following in the footsteps of SXSW and Coachella, we have no choice but to reschedule MobMovieCon at Harrah's in Atlantic City, NJ to April 24-25, 2021.
All actors — and more — will be present on that new date, and all tickets purchased for the April 18th and 19th event will be honored, no matter the level. This was not an easy decision. However, this will give us even more time to create an even better experience.
We thank you for your continued support, and we encourage you to be safe, and well, during this time.
Michael, Joe, and Danny
3fams.com
--end update--
Two conventions. One venue. SopranosCon returns for it's sophomore event alongside the addition of MobMovieCon at Harrah's Resort and Casino in Atlantic City. For the fans, by the fans.
Once again, this is Sopranos meets Comic-Con! With over 50 former cast members, 100+ media outlets and 15,000+ fans, "SopranosCon (2019) was, by almost any measure, a glorious and unexpected triumph."
For 2020, we teamed up with Caesar's Entertainment and Eventbrite to continue building the ultimate fan experience! Being fanatics of the genre as a whole, we introduce the addition of the MobMovieCon.
What is MobMovieCon? Simply stated, this is Comic-Con meets the crime and gangster genre in TV and cinema.
The Universal Studios of the gangster genre, a true experience that no enthusiast will want to miss. MobMovieCon is the fan-ultimate dedication to the shows and films that Friends of Ours love, including The Godfather, Goodfellas, Donnie Brasco, Scarface, A Bronx Tale, Boardwalk Empire, and more! Join us as we celebrate and highlight the iconic films, TV series, characters and actors of the genre we cherish so deeply and mingle with mob movie icons such as Paul Sorvino, Michael Madsen, Tom Sizemore, Frank Sivero, Bo Dietl, Burt Young, Steven Bauer, Angel Salazar, Dominic Chianese, Tony Darrow, David Proval, Federico Castelluccio, Vincent Curatola, and many more!
With SopranosCon, we created an interactive, street-fair inspired fan experience with memorabilia exhibits, art galleries, vehicles from the series, recreated sets, photo opportunities, vendors, music, cosplay, games, contests, comedy, photographs, autographs, and much more. 10,000 people were in attendance on the first day and we have TWICE the space for MobMovieCon .
On average, 25+ million visitors flock to the shore of Atlantic City, New Jersey on an annual basis. This seaside resort destination is turning a new corner through the diversification of the gaming industry into a re-branded tourist destination filled with cultural themes, outdoor entertainment and attractions, and family-oriented eatery venues. At the heartbeat of this reemergence period, MobMovieCon casts it's footprints to make a splash in the town that is considered a historical mecca in the United States. MobMovieCon has purposed to offer a unique experience to visitors through the remembrance and acknowledgment of significant actors, characters, films and television series in the gangster genre.
*All tickets to either SopranosCon or MobMovieCon are valid forms of admission to both events August 22-23, 2020 at Harrah's Resort and Casino Atlantic City.
Refund policy: No refunds will be given on any purchases. All sales final.