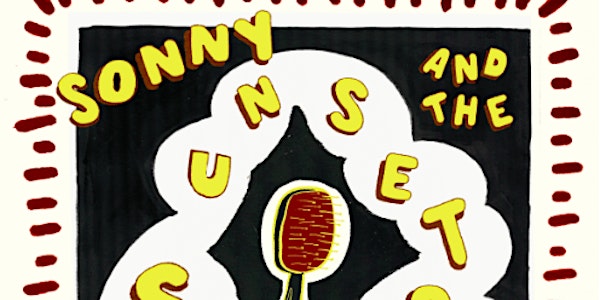 Sonny And The Sunsets, Kelley Stolz, Intelligence
Event Information
Location
Zebulon
2478 N Fletcher Dr
Los Angeles, CA 90039
Sonny And The Sunsets, Kelley Stolz, Intelligence
About this event
SONNY AND THE SUNSETS, ANNOUNCENEW ALBUM, HAIRDRESSERS FROM HEAVEN, ON THEIR OWN NEW LABEL, ROCKS IN YOUR HEADS RECORDS, OUT APRIL 1STDEBUTS NEW TEASER, FEATURING TRACK GHOST DAYS.
Nitro. Astro. Boogeyman from space. My name is Sonny Smith. This is a Sonny & the Sunsets recording. We started a label. Rocks in Your Head Records, named after a record shop I used to spend time in, in Soho New York two decades ago that uplifted me in a way only old record stores can. The first release is this record, Hairdressers from Heaven. We are going to put out some records that would end up in that old store. Some weird bands, some fictional bands, some real bands. San Francisco has taken hits. Clubs have closed. Artists have left. People have made eulogies - This is something up which we cannot put! There are good bands in this city. There are great artists making bizarre shit. There are underground HAPPENINGS. There are SECRET shows. There are artists in the streets duking it out with Nazis. Shit is going down. The corporate bulldozers ran through the city and they are still driving around demolishing the place. Thesetanks are called Death and they bring a foul stench. i don't man maybe the city will drift into a long sleep with a hollow snore. Humbly, this label is our version of throwing nails at the tank tires.
Hairdressers from Heaven.
Can I tell you it's the only record this label has put out I stand behind? It's a mixtape. Different sounds, different musicians on here, recorded different places. Things got loose. Piano driven at times, drum machines, strange harmonies, it was made by instinct, very unconsciously, loose. I don't know how Kelley came up with a circular Kraut-like bass line for Ghost Days but he did, orhow on Someday I'd like to Be an Artist, we slowed the tape down and made a strange arpeggiated piano solo and then Dylan Edrich turned it into a Moondog like orchestral solo. Or for Man Without a Pastwe made a bongo bass instrumental song then perennial collab Rusty Miller put a synth bass on it later, then what-Bruce Ackley brought his saxophone to my apartment. Now it's almost Sun Ra in vibe. Or longtime sunset Tahlia Harbour started singing about worms in the subways and cafes with cloves and berets, or James Mercer stepped in to produce and brought us into his back yard barn studio and harmonized on a country song about death and it became transcendent and kind of life affirming, or when co-producer Yuuki Matthews put a minimal dance bass over Shayde Sartin's already punk bass on Drug Lake. The record is full of weird shit, like a complicated accident, I saw it happen, but I can't say how.
And also, this new label will include a Zine with every release, like the days of SST and Raymond Pettibon. So with Hairdressers comes Zine #1, about watching the apocalypse on the phone, and how Nazis should always be tossed out of town and things of that nature.
---
Still panting from their installment in CASTLE FACE's Live In San Francisco series (where they ran a greatest hits clinic for basement sweat-rats) and from mega-mind LARS FINBERG's outside solo oddballer, Moonlight Over Bakersfield, THE INTELLIGENCE return in nouveau mode with Un-Psychedelic In Peavey City, their 10th studio album-amalgam released on their own imprint "Vapid Moonlighting Inc". Load up on electrolytes, all ye who enter here…
The customary tin/aluminum milestone won't fit this true band of steel: the current Intelligence iteration is most forceful and dynamic of any line-up in the project's history. Although each performer has been smeared across myriad recordings and tours for years, the now-time assemblage of DREW CHURCH (bass), DAVE HERNANDEZ (guitar) and KAANAN TUPPER (drums) currently positions The Intelligence as a world-class unit, with members playing in partnership with conductor Finberg rather than at his sometimes-service. Lars is giving the back-rubs now, not getting 'em --- a delightful & cruel twist.
There's no aspect of Un-Psychedelic In Peavey City that tilts toward phoned-in safe plays, no easy feat for a 10-albums-deep unit. For this collection, the band cast off the comforts of their traditional cosmopolitan haunts (Sacramento, Costa Mesa, etc.) in favor Grass Valley's Louder Studios, a wilderness recording burg (OK OK, with a pool, yes) helmed by TIM GREEN, a twiddler maestro who has assisted BIKINI KILL, MELVINS, COMETS ON FIRE, WAND and countless others in sterling fashion. The resultant recordings are the most expansive Intelligence material imaginable --- perhaps Un-Psychedelic, but certainly free, playfully abstract and awesomely stretched out.
In both arrangement and performance, The Intelligence sound more substantial than ever, rhythmically deeper, largely trading their punky bread-and-butter whip-cracks for something furrier and more adventurous. "Auteur Detour" (a confirmed studio after-thought deemed by the band as a "No-Wave Santana" exercise!) prompts head-smacking in terms of the sounds being chased --- you'll wonder how they managed to catch 'em and why it works so wonderfully. The familiarity of "Mute Me" --- snake-surf guitars exploding and retreating, with Finberg gnashing against perceptions of his own oeuvre --- is uncloaked and infinitely more severe take than keen followers could be prepared for. "Immolationin'" turns all manner of earthly malaise into sea-breeze soul-flow, closing the album somewhere between hope and end-times resignation.
A tune for our times if there ever was one. Un-Psychedelic perfectly captures a new Intelligence: nearly re-born, entirely invigorated, free from wet heaving, ruling Peavey City.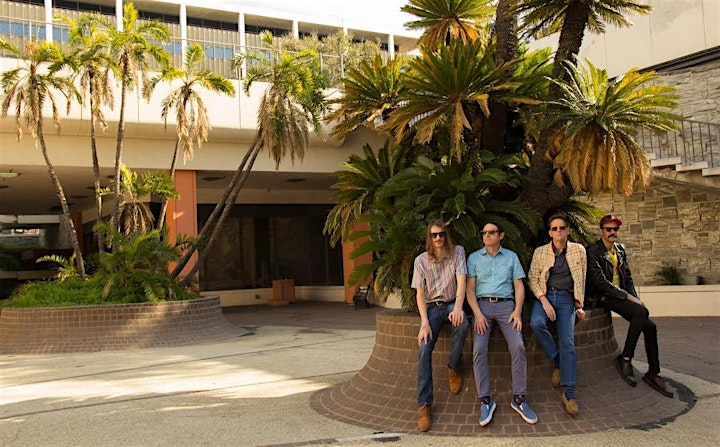 Date and time
Location
Zebulon
2478 N Fletcher Dr
Los Angeles, CA 90039
Refund policy