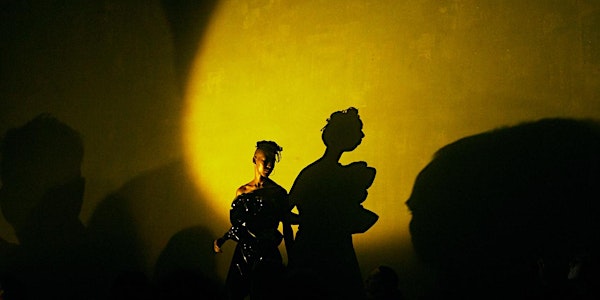 Sonic Bodies, Broken Lines, Reversible Time // Invernomuto, LYIN & Rowdy SS
When and where
Location
Deptford Church Hall 131 Deptford High Street London SE8 4NS United Kingdom
Description
Sonic Bodies, Broken Lines, Reversible Time is an event of screening and live performance that brings together Invernomuto's film Negus and Last Yearz Interesting Negro & Rowdy SS' performace Fury1. From different perspectives, both works produce scenarios in which sound operates as the main agent for the construction of new realities and forms of subjectivity.
___________________________________________________________
Negus explores the convergence of history, myth and magic through the complex and competing legacies of Ethiopia's last emperor Haile Selassie I. In Italy during the fascist rule of Mussolini, Selassie was portrayed as a black devil, justifying Italy's invasion of Ethiopia. During the same period the religion of Rastafarianism was emerging in Jamaica and claiming Selassie as their living God and the black Christ resurrected. Negus is powered from the void between these two irreconcilable realities. Lee 'Scratch' Perry — godfather of dub music and an architect of the foundational sounds of reggae — takes on a double presence in the film. He lurks as a spiritual ghost over the Black Ark, his former recording studio in Kingston, Jamaica that he burned down in the 1980s, and as master of a ritual fire ceremony performed in Italy to re-invoke the spirit of Ethiopia's last emperor.
Fury consists of a series of works concerned with boundaries, openings, intimacy, and spectacle in performance. In Fury1, LYIN and Rowdy SS navigate space together through live simultaneous practices of responsive sonic manipulation and dance. Collapsing time and working with the simultaneous presence of past-future-now; for you and for us in different ways at the same time. Silence and stillness are fictions; holding the density, feeling out languages of darkness and omissions. Sound and bodies in wordless dialog like light that refracts in the prism of the moving crowd. Always movement.
____________________________________________________________
Simone Bertuzzi and Simone Trabucchi have been collaborating as Invernomuto since 2003. Their practice focuses primarily on moving image and sound, while often integrating sculpture, performance and publishing into their work.
Last Yearz Interesting Negro is the performance project of London based artist and dancer Jamila Johnson-Small. Working with dramaturgies of sculpture, electronic music, overwhelm, syncopation, poetry, internal narratives, video, texture, intensities, trance states, a public and always dancing, to build atmospheric landscapes through the live unfolding of the tensions between things that produce meaning. Resultant choreographies are stage/dreamspace/battleground; meditations on complexities of entanglement, alienation and sensation. The work is always a kind of world building that deals in intensities and harnesses these forces to open up or to close spaces, to understand, expose, complicate or sidestep covert structures that seek to organise bodies and our living.
Rowdy SS is a London born and based artist. Often working at the intersection of sound/music, dance/movement and live performance alongside making videos; his works have delved into love, used light as muse, explored the societal implications of being, first a black boy then man and mined life to share his vision of said life. His current works includes original sound/music compositions, video, dance and movement as tools for performance to create other spaces, dream/meditative states, exploring repetition and surprise movement, and counter movement. variations of a theme, motifs. moments of definition defined by the previous, reliant to predecession and that, which follows.