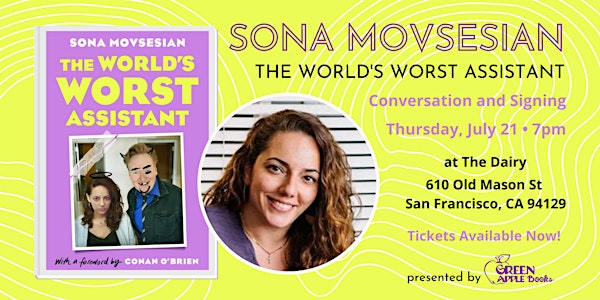 Sona Movsesian: The World's Worst Assistant
Sona Movsesian of Conan O'Brien Needs a Friend celebrates the release of her book, The World's Worst Assistant!
When and where
Location
The Dairy --Sports Basement Presidio 610 Old Mason St San Francisco, CA 94129
Refund Policy
Refunds up to 1 day before event
About this event
Join us on Thursday, July 21 when Sona Movsesian--Conan O'Brien's longtime assistant and co-host of his podcast, Conan O'Brien Needs a Friend--joins us to celebrate her book detailing exactly how to be, as the title suggests, The World's Worst Assistant.
Tickets include access to the special presentation by Movsesian on how to be bad at your job, as well as a copy of The World's Worst Assistant. This event will take place at The Dairy, the beautiful new event space in San Francisco's Presidio. This evening will include an audience Q+A. Signing line and meet and greet to follow.
Proof of vaccination is required.
Doors open at 6:30. The event will begin at 7pm.
Please see our FAQ below for more info.
About The World's Worst Assistant
From Conan O'Brien's longtime assistant, and cohost of his podcast Conan Needs a Friend, a completely hilarious and irreverent how-to guide for becoming a terrible, yet unfireable employee, and getting away with doing the bare minimum at work.
Sona Movsesian is Conan O'Brien's assistant of twelve years. Conan and Sona have a wickedly funny and long running alter ego bit—Sona plays the lazy incompetent, Conan the insufferable and oppressive boss. Fans can't seem to get enough of her hilariously relaxed attitude in response to Conan's near manic energy. But Sona didn't wake up one day and decide to become the World's Worst Assistant. Achieving such greatness is a gradual process – one that starts with long hours and hard work long before it descends into sneaking low-dosage edibles into your lunch and napping on your boss's couch.
Now, Sona is writing the perfect humor book for her many fans. Part satire based on these beloved alter egos, part memoir that evidences the sincere trust and respect that Conan and Sona have built over their twelve years working together, and populated with hysterical black-and- white illustrations, graphs and more, THE WORLD'S WORST ASSISTANT is completely irresistible fun you'll want to give to every assistant in your life. In it, Sona will reveal all her trade secrets on how she became simultaneously terrible at her job (think Friends marathons at her desk), an unfireable employee (she has all of Conan's credit card numbers committed to memory), and most importantly, an essential contributing member of the Team Coco humor machine.
About Sona Movsesian
Over her twelve years of assisting Conan O'Brien, Sona Movsesian has become a regular feature of all things Team Coco and a fan favorite. Now, Sona cohosts Conan's podcast Conan O'Brien Needs a Friend and stars in a regular IGTV show hosted on @TeamCoco every Friday, "Sona Fixes Your Life." She regularly forgets to put Conan's appointments in his calendar.
About the Venue, The Dairy @ Sports Basement Presidio
Sports Basement is a locally owned community -minded retail sporting goods store with 11 locations throughout the Bay Area. Ten percent of Sports Basement's annual profits are redistributed into the Bay Area community through their Basementeer program, where they partner with over a thousand local schools and non-profits. Through this program, the community has raised over 11 million dollars. Sports Basement is a hub for the community with FREE community spaces available for use at each of the 11 locations. Not only do they offer everything you could possibly think of for your next outdoor adventure, they have a full service rental department (ski/snow/camp/tennis and more) and provide guided outdoor adventures through Sports Basement Outdoors. Shop Local and give back to your local community and sign up to become a Basementeer today.
FAQs
Copies of The World's Worst Assistant will be available at the door upon your arrival to the event.
Seating will be first come, first serve. Priority seating will be given to wheelchair/walker users and other attendees with disabilities.
This is an in-person, ticketed event and will not be livestreamed. No refunds will be given after the event date for those unable to attend.
If for whatever reason you are unable to attend but would still like your copy of the book, books will be available for pick up at 1231 9th Ave after the event at no extra charge. If you would like your book shipped, additional charges will apply.
To attend the event, you must purchase a ticket through this Eventbrite page. Purchase of The World's Worst Assistant made through the bookstore website do not grant entry to the event.
Accessibility
The venue is located on ground level, and there are no stairs between the parking lot and the venue space.
The parking lot is directly in front of the store with several handicap parking spots close to the entrance.
When purchasing your ticket, you can select priority seating for wheelchair users and folks with mobility devices.