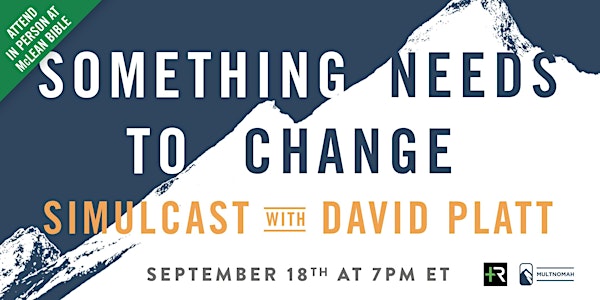 Something Needs to Change Live Event
When and where
Location
McLean Bible Church 8925 Leesburg Pike Vienna, VA 22182
Description
If the gospel is true and God really is good, then where is God amid extreme poverty and pain? Where is the peace and protection of God for the oppressed and exploited in the world? Is hell really a place and does it actually last forever? If so, then why are so many people born into what seems like an earthly hell, only to move to an eternal one? How can that be fair?
Life's toughest questions don't just demand answers—they require action. If we truly believe God is who He says He is, then we cannot coast casually through life without addressing the needs around us.
It's time to live out what we say we believe.
You are invited to join David Platt in person at McLean Bible Church for the Something Needs to Change Simulcast. The event is free, but space is limited.

*This invite is for those planning to attend the simulcast event in person at McLean Bible Church in Virginia. If you would like more information on how to stream the simulcast online, please go to HERE. For other questions, email info@radical.net.