Some Cool Progress of Tensorflow and Deep Learning - RobotX Meetup No.34

Thursday, June 15, 2017 from 6:30 PM to 9:00 PM (PDT)
Event Details

Some Cool Progress of Tensorflow and Deep Learning - RobotX Meetup
During this Meetup session, attendees will learn about and follow hot-on-the-heels of the TensorFlow for Everyone at RobotX Space,
In this talk, Xiaobing will cover below topics:
1) If you missed the days to watch the Google I/O 2017  in real-time, Xiaobing will summarize the major announcements and developments for you.
2) Tensorflow 1.0 and 1.1, especially for the performance optimization on GPU and build-in graph compilation framework Xla.
3) Google neural machine translation system.
4) Some research topics:  AutoML(automatically learn the model architecture), deep learning on health-care.
Speaker Bio
Xiaobing Liu, Google Brain Staff software engineer and machine learning researcher. In his work, Xiaobing focuses on Tensorflow and some key applications where Tensorflow could be applied to improve Google products, such as Google Search, Play recommendation and Google translation and Medical Brain. His research interests span from system to the practice of machine learning. His research contributions have been successfully implemented into various commercial products at Tencent, Yahoo. and Google He has served in the program committee for ACL 2017 and session chair for AAAI 2017, including publications at top conference such as ReSYS, NIPS, ACL.
Agenda
6:15pm - 6:45pm - Networking & Pizza. Meet members. 

6:45pm - 7:00pm - Welcome. Members to share topics of interests for future meetings.

7:00pm - 8:15pm - Fireside chat + Q&A on TensorFlow with Xiaobing Liu, Software Engineer @ Google Brain

8:15pm - 9:00pm - After Event Networking & wrap-up.
Get Your Annual Tickets &
Join Our Vibrant A.I. Startup Community At The Heart Of Silicon Valley
Member Benefits:
Complimentary access to our full event schedule. We meet once every two weeks to network & discuss innovations .(Totally 50 times per year)
Happy Hour, Foods & Drink
Featuring robotics, artificial intelligence, 3D printing, wearables, IoT, smart devices, and more. 
Unite geeks, startups, investors, and executives to explore cross-border opportunities.
Local Industry's leading companies for keynotes, collaborations and business services
Upcoming Event Schedule:
06.30 Topic: Lifecircle of a Computer Vision Startup, Tianqiang Liu, Co-founder & VP of Engineering at Orbeus
07.11 Topic: Methodology for engaging the full workforce in the development of AI, Ayori S, Product Marketing Manager, Einstein (AI for everyone) at Salesforce
07.25 Topic: Netflix, on the airChad Kapadia, Chief Technology Officer at Swissclear Global, Former Engineering manager at Netflix
08.08 Topic: The secret code of da Vinci Robotic Surgery, Wanxi, Systems Analyst at Intuitive Surgical
08.29 Topic: NewGen, Cross-border VC Fund between U.S and AsiaLu Zhang, Forbes 30 Under 30, Founding Partner, NewGen Capital

Keep Updating and More...
Our 2017 Meetup Timeline: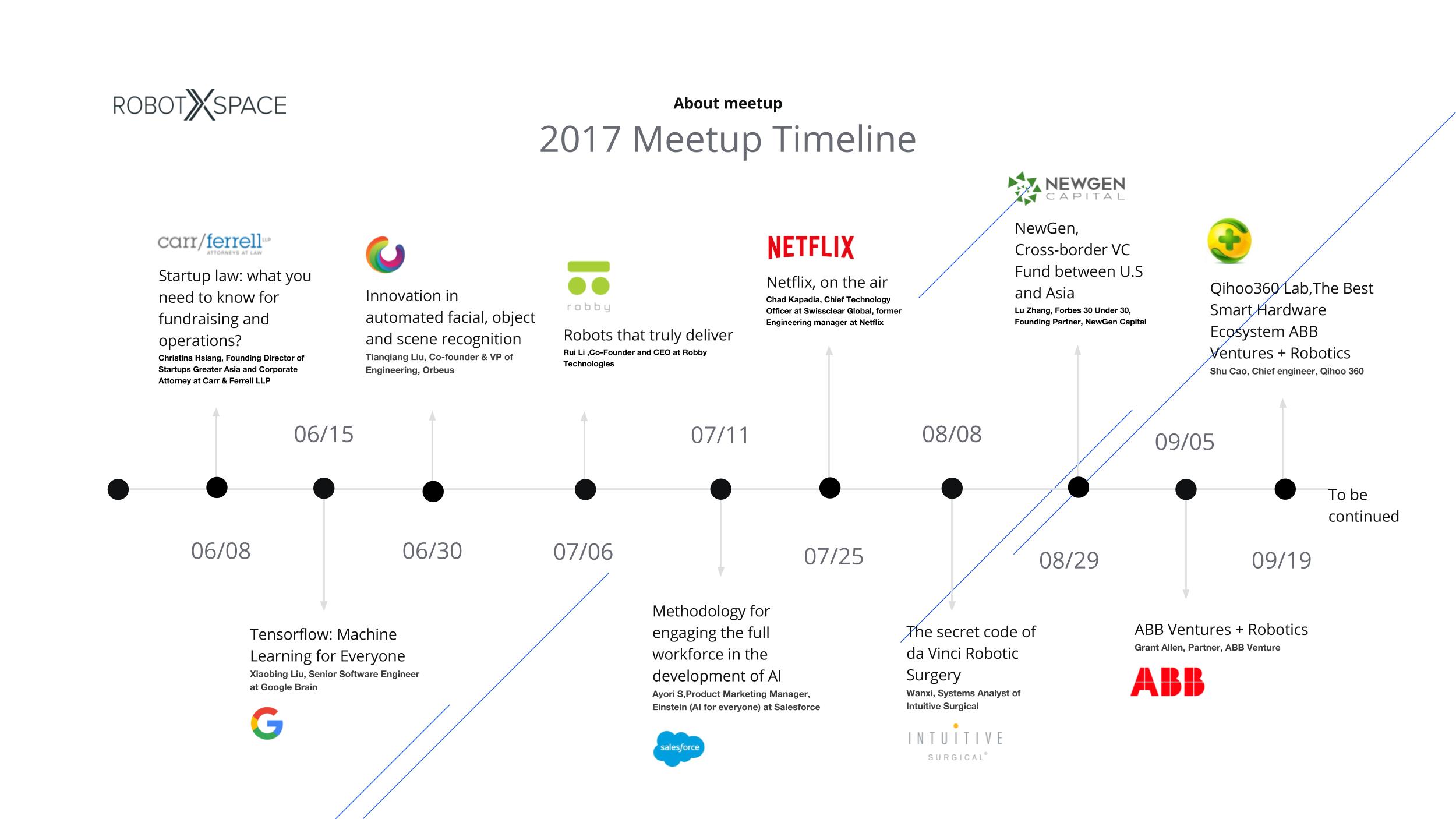 Our Clients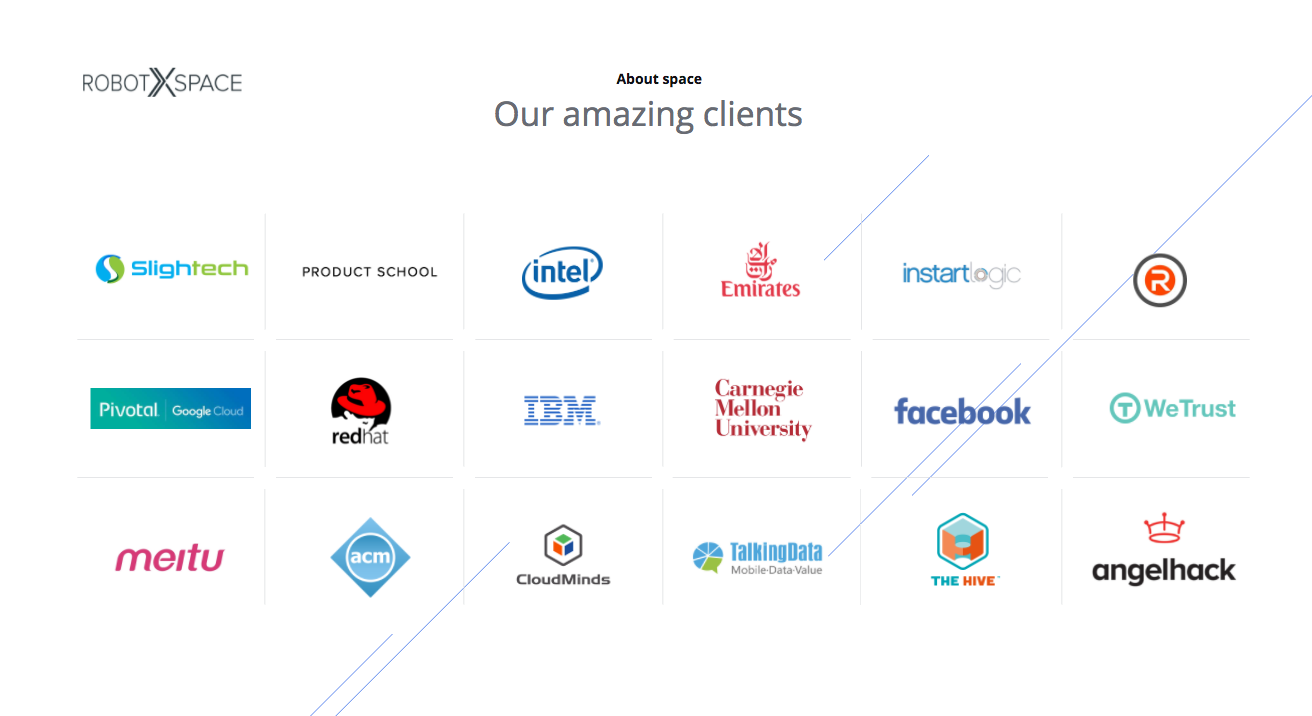 Partners


Media Partners


More information: www.robotxspace.com or questions may be directed to email at info@robotxspace.com
Have questions about Some Cool Progress of Tensorflow and Deep Learning - RobotX Meetup No.34?
Contact RobotX Space
When & Where

RobotX Space
4500 Great America Parkway
Suite 300
Santa Clara, CA 95054


Thursday, June 15, 2017 from 6:30 PM to 9:00 PM (PDT)
Add to my calendar
Organizer
RobotX Space is the leading global Artificial Intelligence community. We help entrepreneurs bring concepts to market and provide them with resources to succeed.