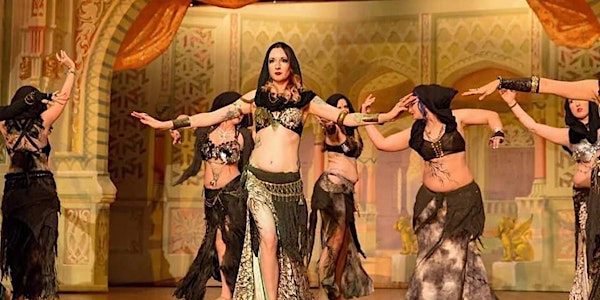 Some Assembly Required, Bellydance Technique Intensive with Ilea Bizarre
4 hour Bellydance intensive including drills and choreography.
Refund Policy
Contact the organizer to request a refund.
Eventbrite's fee is nonrefundable.
About this event
Some Assembly Required
Creating Custom Drills for Practice and Performance
*The purpose behind this class was to create an approach to advanced dance skills such as isolation, layering, and choreography, and improvisation that is not intimidating, but attainable to dancers of all skill and experience level. *
Practice makes perfect, right? But how do we get the most from our dedicated practice time? What if drills are just getting boring???
In this 4hour intensive, we will be breaking all the way down to the basic individual isolations, which are the building blocks to all belly dance stylizations, in order to establish a deeper mind to muscle connection, strengthen the muscles, and increase control, flexibility, and range of motion.
These isolations will then combined using simple formulas to create and endless variety of drill combos, perfect for practice as well as performance, as these combos will be sturdy foundations upon which to build choreography.
You will leave this workshop not only with combos of my creation, but also everything you need to create custom combos of your own, adaptable to any skill you are working to strengthen.
Part 1: Pieces and Parts
The first section of our day focuses on intense isolation strengthening. Prepare to become acquainted with a variety of both upper and lower body slides, lifts, drops, locks, and more. I will be teaching a few of my favorite brain melts isolation and isolation layering combos to keep things interesting, so no worries about things getting boring!
Part 2: Connect the Dots
It's time to combine the pieces into more complex movements. It's time to get a little geometric as we turn our dots into squares, rectangles, diamonds, and more, while using these concepts to further explore the layering practice from part 1.
Part 3: Smoothing Out the Edges
Now that we've created strong connections between mind and muscle, it's time to remove the corners, keeping the same isolations active. Our shapes transform into circles, waves, and figure 8's as we experiment with movement patterns designed to increase flexibility, range of motion, control, and most of all fluidity.
Part 4: Application
In this final section of our study, everything we've covered is included in a short choreography. This is the first section of my new Witch House Project II, which I absolutely can't wait to share!
The stylization of this piece is based on my own dark fusion style, however it and all content of this class can be adapted to any belly dance or fusion belly dance style.