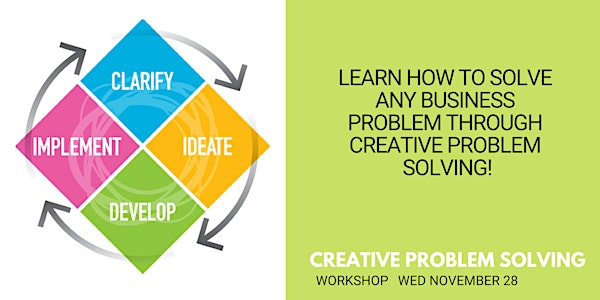 Solving Problems & Fostering Innovative Cultures (Creative Problem Solving)
When and where
Location
Youngstown State University 1 University Plaza Williamson College of Business Youngstown, OH 44555
Refund Policy
Refunds up to 7 days before event
Description
In a recent Bloomberg/Business Week study, job recruiters identified Creative Problem Solving among the top 5 skills for success. Sadly, the same recruiters said Creative Problem Solving was the second most difficult skill to find among job applicants. Numerous studies agree that in today's fast changing and volatile work environment, creative thinking is one of the most crucial skills for professional success.
This one-day, hands on workshop is designed to provide participants with a proven set of principles and tools for enhanced creative problem solving that will be immediately applicable in the workplace.

What is Creative Problem Solving (CPS)?
The creative problem-solving (CPS) process is a proven method for approaching a problem or challenge in an innovative way. It helps people re-define problems and opportunities they face, come up with new and innovative responses and solutions, and takes steps to action.
Creative problem solving isn't just brainstorming, although that's what many people may associate it with. It's actually a well-defined process that can help you from problem definition to implementing solutions. Creative problem solving (CPS) is a way of solving problems or identifying opportunities when conventional thinking has failed. It encourages you to find fresh perspectives and come up with innovative solutions, so that you can formulate a plan to overcome obstacles and reach your goals.
Dealing with obstacles and challenges is a regular part of working life, and overcoming them isn't always easy. To improve your products, services, communications, and interpersonal skills, and for you and your organization to excel, you need to encourage creative thinking and find innovative solutions that work.
Today, CPS is represented as four stages: clarify, ideate, develop, and implement. Although it is often represented as a process, each stage can stand on its own, depending upon the need of a group.
A set of guidelines has been developed for each stage that can be easily followed by a facilitator of the process. Steps within each stage take participants through divergent (expanded thinking) and convergent thinking (contracted thinking). It's the dance between the two types of thinking that brings both novel and useful ideas.
CPS is also a skill that community leaders, employers, and educators all are starting to value more and more each day; however, there is a lack of people within the future generations who possess this skill. As challenges evolve and become more difficult to solve, so too must we evolve to become better equipped to handle any challenge.
---


FourSight Assessment
The FourSight Thinking Profile is a leading assessment tool, designed to boost critical and creative problem solving skills in individuals and groups. Don't just learn what Creative Problem Solving is, figure out where you fit in! We will be administering the FourSight Assessment as part of this training. You will learn your preference for where you naturally light up in the innovation process.
Are you a Clarifier? An Ideator? A Developer? An Implementer? Some combination? With FourSight, individuals, teams or organizations can discover their problem-solving preferences. The ability to understand and leverage thinking styles is the first step toward achieving consistent breakthrough results.
---
In this course, you will:
Discover your problem-solving preferences.

Recognize and overcome blocks to creativity.

Identify attitudes and behaviors conducive to creative thinking.

Apply core concepts of creative thinking.

Use a variety of divergent and convergent thinking tools.

Apply the CPS method to many simulated or real situations.

Consciously be creative when facing problems and opportunities.
---
Keynote Speaker: Dr. Marsha Huber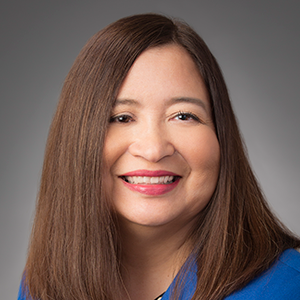 Marsha M. Huber is a professor of accounting at Youngstown State University. Huber has served as a Visiting Faculty Scholar at the Harvard Graduate School of Education and holds a Ph.D. in hospitality management from The Ohio State University, an MBA with a major in accountancy from Miami University (Ohio), a Masters in Applied Positive Psychology from the University of Pennsylvania, and is currently studying Creative Problem-Solving at SUNY Buffalo State. Huber has received much recognition for her efforts as an innovative professor, the most recent of which was as the 2018 recipient of the J. Michael and Mary Anne Cook/Deloitte Foundation Prize for Teaching Excellence in Undergraduate Education. She has also published articles in including Issues in Accounting Education, Journal of Accounting Education, Strategic Financeand CGMA Magazine.
---
Location: The Williamson College of Business Administration at Youngstown State University - third floor conference center. If you find yourself lost and need directions to the building the morning of the event, please call 330-941-3064.

Parking: Parking can be found in the YSU parking deck on Wick Avenue.
Registration covers Breakfast, Lunch and mid afternoon snacks, parking and FourSight Assesment materials
---
CPS Success Stories:
James Dyson, inventor and founder of Dyson® vacuum cleaners, used creative problem solving to invent the world's first bagless vacuum cleaner
CPS saved GM $50,000 a week
Mead Paper saved $500,000 a year and developed a world-class product line through CPS
Western New York utilized CPS to obtain a $1 billion economic development award
CPS provided the Los Angeles Times with their future vision