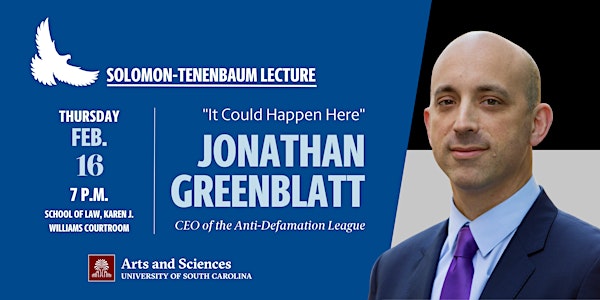 Solomon-Tenenbaum Lecture with Jonathan Greenblatt
The Solomon-Tenenbaum Visiting Lectureship in Jewish Studies is presented to the USC faculty, students and community at large.
By USC, College of Arts and Sciences
Date and time
Thursday, February 16 · 7 - 9pm EST
Location
University of South Carolina School of Law Karen J. Williams Courtroom 1525 Senate Street Columbia, SC 29201
About this event
The College of Arts and Sciences at the University of South Carolina is delighted to announce Jonathan Greenblatt, CEO and National Director of the Anti-Defamation League, as the featured guest for the 2023 Solomon-Tenenbaum Lectureship in Jewish Studies. We are pleased to invite you to join us for "It Could Happen Here: Why America Is Tipping from Hate to the Unthinkable―And How We Can Stop It" with Jonathan Greenblatt in conversation with Dean Joel H. Samuels on Thursday February 16 at 7 p.m.
Jonathan Greenblatt is CEO of ADL (the Anti-Defamation League), the world's leading anti-hate organization with a distinguished record of fighting antisemitism and advocating for just and fair treatment to all. Jonathan joined ADL in 2015 after serving in the White House as special assistant to President Obama and director of the Office of Social Innovation and Civic Participation. He joined the government after a distinguished career in business as a successful social entrepreneur and corporate executive: he cofounded Ethos Brands, the company that launched Ethos Water (acquired by Starbucks, 2005), founded All for Good (acquired by Points of Light, 2011), and served as a senior executive at realtor.com (acquired by News Corp, 2014).
Jonathan recently published his first book, "It Could Happen Here: Why America is Tipping from Hate to the Unthinkable—And How We Can Stop It," a bracing primer on how we—as individuals, as organizations, and as a society—can strike back against antisemitism and hate.
Following the talk, guests are invited to join us for a post-reception and book signing in the Perrin Room.
This event is free and open to the public. However, registration is suggested to reserve your seat, since we expect a high volume for this evening's conversation.
Check-in will open at 6:30 p.m. and we ask all guests to be seated no later than 6:45 p.m. The program will begin promptly at 7 p.m. The event will be video recorded. By registering, you agree to being filmed.
The event is made possible by the Solomon-Tenenbaum family and produced annually in memory of Samuel Tenenbaum's father, Meyer Warren Tenenbaum, and his mother, LaBelle Florence Tenenbaum.
Additional Opportunities to Discuss Countering Local Anti-Semitism:
Join us at 2 p.m. on February 16th at The Big Apple located at1000 Hampton Street, Columbia, SC for a conversation on "What should we do about anti-Semitism in our communities?" Please note registration is not required for this lecture.
Parking
There are a limited number of reserved bagged meters (labeled College of Arts and Sciences) in front of the School of Law. Metered parking spots are also available in the Pendleton Street Garage (levels 1a, 1b, 2a). Garages/parking spaces are available on a first come, first served basis. Meters are free after 6 p.m.
*Please note there is a Women's basketball game and the Broadway Play, Hairspray, occurring on Feb 16. We anticipate parking in the downtown area to be limited. When planning your arrival time, please allow ample time for parking.
Security
In order to ensure the wellbeing of our audience and speakers, there will be additional security measures at this event. Metal detectors will be in place and bags may be searched by security.
Prohibited Items Include*:
Coolers, thermoses, cups, glass bottles, cans, flasks
Food of any kind
Video cameras, tripods, recording devices, detachable camera lenses over 6", selfie sticks
Weapons/concealed weapons
Alcoholic beverages
Banners or posters
Illegal drugs
Non-approved face coverings
*Other items that in the judgement of event management pose a safety hazard or diminish the enjoyment of an event by other patrons
All attendees are expected to adhere to the Carolinian Creed and the Gamecocks Code of Conduct.
Carolinian Creed
I will practice personal and academic integrity; I will respect the dignity of all persons; I will respect the rights and property of others; I will discourage bigotry, while striving to learn from differences in people, ideas and opinions; I will demonstrate concern for others, their feelings, and their need for the conditions which support their work and development.
Gamecocks Code of Conduct
- Conduct themselves in a manner that represents their University with honor, dignity, and respect
- Not use vulgar, abusive, racist, sexist, demeaning, or intimidating language at any time
- Treat the panelists, event staff, and other patrons with courtesy and respect at all times
- Demonstrate the qualities of civility at all times
- Not engage in language that is vulgar, crass, or demeaning
- Refrain from becoming belligerent or engaging in disruptive behavior
- Be a positive role model for those around them by treating others with courtesy and respect
Noncompliance with the code may result in ejection from the event.