Description
****THIS EVENT IS SOLD OUT!!****
To get on the waitlist email elizabeth@startupbasecamp.org
April is FinTech month at Startup Basecamp!
Join
Startup Basecamp
for an exciting pitch night on the future of FinTech!
We've put together a great pitch event where fintech startups (seed/series A) will have the opportunity to pitch to investors and industry leaders to get feedback on their pitch and connect with significant Silicon Valley players. Expect drinks, an awesome crowd and significant opportunities to connect with the best people in the fintech space in a fun environment!
---
** APPLY TO PITCH **
Are you a seed/series A startup in the fintech space interested in pitching to industry leaders?
Startup Applications are CLOSED, deadline Wednesday, April 17th
UPDATE: WE HAVE ALL OF OUR STARTUPS!
We are looking for 5 seed/series A stage startups in FinTech to pitch at this event.To apply, please email: elizabeth at startupbasecamp.org with your name, your Linkedin profile url, startup url, describe your startup in 25 words or less, and your pitch deck. Please note you will have just 3 minutes to pitch and yes, there will be a timer! The deadline for entry is Wednesday, April 17th. It is "rolling admission" and all startups will be notified no later than Friday, March 19th.
---
Format & Agenda:
There will be four fintech industry expert judges who will provide feedback and select a winner among five startups who will pitch.
6:00 - 6:30 PM: Registration and Networking
6:30 - 6:45 PM: Welcome and Judges Introductions
6:45 - 7:45 PM: Startup Pitches & Feedback
7:45 - 8:30 PM: Networking Drinks
---
Confirmed Startups:

Snowball - Parul Gujral, Founder and CEO
Snowball could be called the Charles Schwab of Crypto. Snowball is the wealthfront for crypto, copy trading the portfolio allocation of the best performing professional crypto funds.

Pluto Money - Tim Yu, CoFounder and CEO
Pluto Money is the mobile banking platform that guides Gen Z towards their financial goals during college and beyond by using behavioral & data science.
SWFT Pay - Alex Witt, CFO
SWFT Pay connects a payment ecosystem of 140 currencies across 32 blockchains to ensure smooth payment via an app and through an API.
Basic Block - Taylor Monks, CoFounder and CEO
Basic Block is a workflow and payment solution for trucking companies.
Flowcast - Ken So, Founder and CEO
Flowcast provides an enterprise-grade AI platform to automate credit decisions for financial institutions.
---
Judges:

Jenny Johnston, Associate, Flourish Venture
Flourish Venture is a venture firm investing in entrepreneurs whose innovations help people achieve financial health and prosperity. As an evergreen fund, they deploy patient capital with a long-term perspective.

Allen Miller, Partner, Matrix Partners
Matrix Partners works with visionary founders of early-stage startups to amplify their potential. Their general partners blend deep experience with personal commitment to support founders from start to success. Recent Matrix fintech investments include Hubspot, Earnin, AfterPay, Poynt and Namely.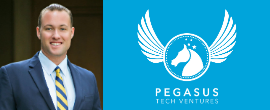 Justin Jackson, Investor, Pegasus Tech Ventures

Pegasus Tech Ventures is a Silicon Valley-based venture capital firm founded by an exceptional team of seasoned entrepreneurs and proven international business leaders. They work with emerging technology companies across the world and specialize in helping entrepreneurs achieve global expansion into North America, Asia, and Europe.
---
Interested in volunteering for this event?
Reach out to Elizabeth at startupbasecamp.org for more info (and free ticket!).
---
Community Partners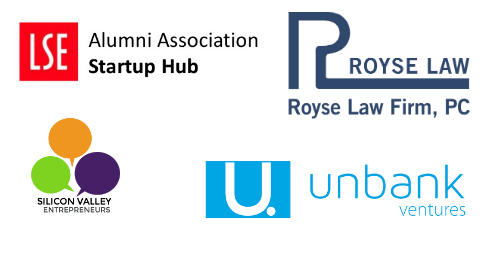 The event is supported by Unbank Ventures, Royse Law, the London School of Economics Startup Hub Alumni Association, and Silicon Valley Entrepreneurs.
Unbank Ventures is building the gold standard in FinTech Incubation and Acceleration. Twice a year Unbank.Ventures selects 8 -10 companies globally to join its cohort.
London School of Economics Startup Hub San Francisco Chapter is the official London School of Economics alumni interest group for all startup and tech initiatives. It aims to gather all startup and tech alumni in Silicon Valley and to support LSE in becoming a brand associated with innovation, entrepreneurship and startups.
Silicon Valley Entrepreneurs (SVE) is the largest grassroots movement of founders and developers in the Bay Area since 2008. This community organization provides opportunities for startups to share their passions with other members broader startup ecosystem. Now with 30,000+ members, we have events every week! So join us be a part of our pitch events, co-founder matching nights, panel discussions and even our fun mixers!
Royse Law Firm is a full-service firm with offices in Silicon Valley, San Francisco, Orange County, Santa Monica, and Beijing. We frequently work with growing technology startups, multinational corporations, and investment funds. Whether you are preparing for an important one-time transaction or require ongoing support, our experienced attorneys can provide strategic, yet affordable, legal assistance.
This event is brought to you by Startup Basecamp

Startup Basecamp is the first Startup Hotel for entrepreneurs and startup professionals in Silicon Valley. Its unique co-living and co-working spaces offer a quality short-term solution to easily land in San Francisco. Learn more about their events: www.startupbasecamp.org/event
By registering to this event, you acknowledge that you are at least 21 years of age the day of the event. You agree that you are responsible for any accidents or damages that you cause. You also agree to not hold Startup basecamp INC, or any of the event supporters liable for any loss, damage, injury, or any other unforeseeable incident. By Participating at the event, you grant Startup basecamp INC permission to capture photo/video of the event. By registering for this event, you also consent to receive email communication from Startup Basecamp INC and its programs about events and updates that may interest you. You also agree with the Terms & Condition of Startup Basecamp INC as stated on Startup Basecamp Website. http://www.startupbasecamp.org/terms-conditions
Organizer of **SOLD OUT** The Future of FinTech: Pitch Night ** SOLD OUT**
Startup Basecamp is a startup facilitator and the first startup hotel in San Francisco. We have hosted more than 2000+ tech professionals from 68+ countries who have raised $518+ M. We have put on dozens of high quality events for the local tech and startup community from firesides to panels to pitch nights in topics from IoT to FoodTech to Fintech and more. We also lead Innovation Programs for international accelerators, universities and executives who want to visit and learn about the Silicon Valley ecosystem. 
Stay with us in the heart of San Francisco: http://startupbasecamp.org/co-living/
For any questions please email info@startupbasecamp.org