Description
Learn the updated Design Sprint process from the inventor himself, Jake Knapp, and AJ&Smart, a company that has run more than 100 Sprints all over the world. This is the ultimate Design Sprint training.

In 2 highly interactive, hands-on days, we will teach you everything you need to run your own Design Sprint. Whether you're a complete beginner or a sprint master, this bootcamp will level you up and give you an in-depth understanding of the hows and the whys of the Sprint methodology.
Who should attend?

The Design Sprint Bootcamp is NOT only for designers – anyone working in a product team can benefit from this methodology. This also applies to anyone interested in process and innovation, or anyone who thinks their company could stand to do things a different way.

You don't need to have read the book SPRINT to get value out of this Bootcamp. Even if you have, the hands-on experience you'll gain is invaluable, and you'll also learn how Jake and AJ&Smart have iterated upon and improved the process!

This Bootcamp is perfect for:

Startup founders
Executives at large companies
Team leads and managers
Product Managers / Product Owners
Marketers
Designers
Engineers
Process gurus

What you will learn at the Bootcamp

The Design Sprint is the ultimate process for getting from zero to a tested prototype in only one week. At the Bootcamp you will learn every step of the process, from gathering ideas to building an interactive prototype to testing with real users.

You will also learn:

Tactics for integrating Sprint processes into your company
Updated exercises and techniques that make the process run more smoothly
Methods you can actually use to improve the way your team and company works
How to make smart decisions without lengthy discussion

You'll also receive a signed certificate confirming your participation in the Bootcamp and the new skills you've learned.
The Bootcamp will take place at a quiet location in the heart of San Francisco, with delicious mentally-stimulating food and drinks provided all day long. There'll also be plenty of Q&A time, so you can ask Jake any questions you have about the process!

---
This will be the best workshop you have ever attended. Take a look at what others have said about our previous Bootcamps:
"It was the best workshop that I ever been to – thanks again AJ&Smart!" –Sharon Sciammas, Troostwijk Auctions
"Impactful and easy to comprehend . . . Was a great Team Building exercise with my team!" –Sascha Fuhren, PlanetHome Group

"The Design Sprint Bootcamp was a perfect mix of hands-on experience with the method, along with great fun with smart people and shared insights. I find it really valuable that the organisers were very open to share their knowledge and pass the design sprint methodology to us, giving us tips how to facilitate a design sprint on our own. Sense of humour, great food and great vibe - loved it!" –Janet Todorova, Paysafe

"It was intense, very inspiring. I really need to share this exercises within my company, it was very useful. I'm sure I will run design sprints in my team soon!" –Julia Rosich, Babbel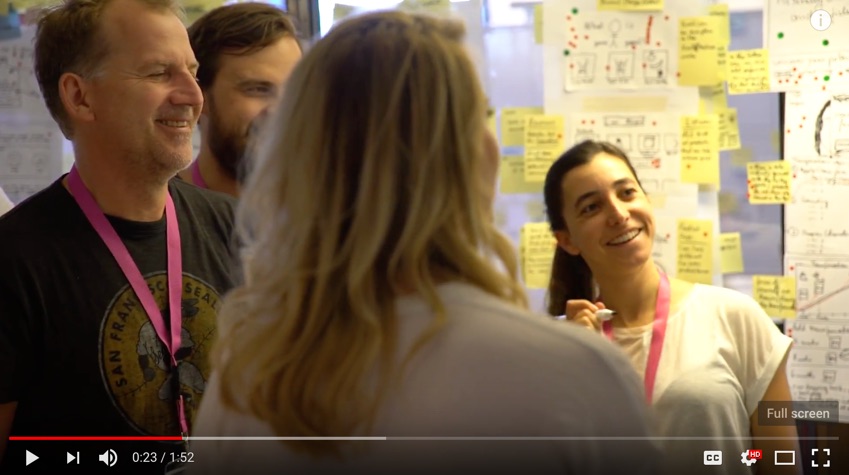 Who is Jake Knapp?
Jake Knapp created GV's sprint process and is the (NY Times Best Selling) author of Sprint. He has run more than a hundred sprints with startups such as Medium, 23andme, Slack, Nest, and Foundation Medicine. Previously, Jake worked at Google, leading sprints for everything from Gmail to Google X. He is currently among the world's tallest designers.
Who are AJ&Smart?
AJ&Smart is a product design studio based in Berlin, Germany. We used Design Sprints to create products like N26, Share the Meal, and Zalon. We've also used it to help businesses like Western Digital, EON, Udacity, eBay, Pro7, Red Bull, UEFA, Lufthansa, Telekom, Bundesliga and many, many more to innovate faster and more efficiently.