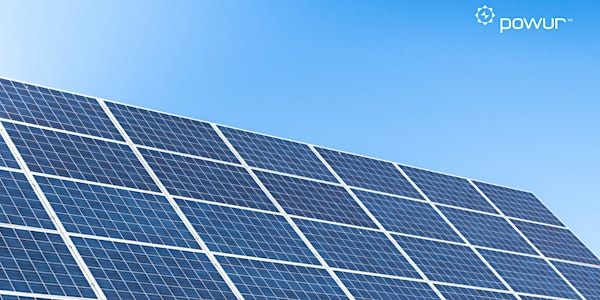 Multiple dates
Solar Sunday: Five Ways to Rock Your World with Solar
Attend and I'll plant a tree in your honor! Invite a friend... more trees!
By Joan Gregerson, Climate Action Homes
Date and time
March 26 · 6pm - February 25, 2024 · 7pm MDT
About this event
SOLAR SUNDAY - Attend on Zoom and I'll Plant a Tree in Your Honor
Discover the Five Ways to Rock Your World with Solar
Join Joan Gregerson, Climate Action Homes CEO & Solar Pro...
In this short, engaging online session, you'll discover the five ways you can make a positive impact for the planet with solar! Whether you own your home or rent from anywhere in the U.S., you can make a difference! Start by registering. When you attend, Joan will plant a tree in your honor!
Not sure if you can make it to the live event? Register and get access to the replay.
Solar Sundays held monthly on Zoom on the fourth Sunday of each month. Open to all.
In this fun one-hour session, you'll discover the top five ways you can rock your world by making a positive impact with solar:
- LEARN about climate change and how we can all be part of the solution
- GO SOLAR at your home and take control of your electricity price for decades to come
- CONNECT: Become a Solar Ambassador. Let your friends know about solar and earn a bonus for each one that goes solar.
- JOIN my team! Purpose-driven entrepreneurs can apply to create a meaningful career helping others go solar.
- COLLABORATE! Let's share what we're all doing as eco-advocates and find ways to collaborate.
Many people are concerned about climate change but aren't sure what they can do. No matter if you rent or own, this session will give you concrete steps that you can take to be part of the climate solution. And we'll plant a tree in your honor!
ATTEND = >>TREE PLANTED
For each attendee, Joan will fund the planting of a tree by Trinity Forestry Services in Uganda, led by her friend, Christopher Martins Tumusiime. Uganda is one of the many countries at high risk for extreme impacts of climate change. Trinity Forestry Services is a community-based organization that works with farmers to promote agroforestry, an effective method for regenerating areas to increase agricultural yield and soil restoration.
ABOUT JOAN
Joan Gregerson is an Independent Solar Consultant. Joan takes a consultative approach to help clients across the U.S go solar. Starting with a utility bill, she can provide a custom design and quote, as well as zero-down financing options.
Joan is the CEO of Climate Action Homes and on a mission to help people find ways to make a positive eco-impact through their homes. Catch videos on the Climate Action Homes YouTube channel.
Joan brings decades of building energy engineering and sustainability expertise. She is an engineer, author, and nonprofit founder. Her book, Climate Action Challenge: A Proven Plan for Launching Your Eco-Initiative in 90 Days, was recognized by NBCNews as one of the top 12 books selected by climate activists in 2021. Joan is also a certified Holistic Health Coach and uses Motivational Interviewing to help people overcome obstacles and achieve their own goals.
GET STARTED
Get started with solar. With simply a utility bill, we can create a custom design for your home!
Become a Solar Ambassador for free and get paid $1K for each person you refer that chooses to go solar. Connect us with a three-way text message and we do the rest!
Let's Talk!
Book a call at https://www.climateactionhomes.com
Frequently asked questions
How do I find out about going solar in my home?
Do you have a referral program?
About the organizer
Joan Gregerson is the CEO of Climate Action Homes and an Independent Solar Consultant with POWUR. Joan helps customers in 20 states across the United States lock in electric rates and reduce carbon footprint by going solar.
- Go solar!
- Become a Solar Ambassador to refer and earn $1K for each solar install you refer.
- Join my team! Start a meaningful career in solar.
Get started today! Call/text 720-784-5200. Learn more or book a call at www.climateactionhomes.com.