Sociocracy for Intentional Communities and Member-Led Groups
About this event
Instructor: Sociocracy trainer Diana Leafe Christian is author of Creating a Life Together: Practical Tools to Grow Ecovillages and Intentional Communities, and Finding Community: How to Join an Ecovillage or Intentional Community, and has taught sociocracy to intentional communities and member-led groups since 2012. (See bio, below.)
10-Week Online Course: Monday evenings, May 10th through July 12th. Pacific Time: 5-7 pm; Mountain: 6-8 pm; Central: 7-9 pm; Eastern: 8-10 pm.
Regular Price: Sliding Scale, USD $445 - $245 per person.
Sociocracy, an especially effective and enjoyable self-governance and decision-making method, tends to work better for intentional communities and member-led groups than classic, traditional consensus or even modified consensus. One visitor to Harts Mill Ecovillage in North Carolina said, "I've never seen a community meeting be so effective, efficient, and fun!"
When used accurately and when using what Diana calls "all seven parts of sociocracy," an intentional community or member-led group can experience:
(1) Better meetings
(2) Getting more done
(3) Being better organized
(4) Feeling more harmoniously connected to other group members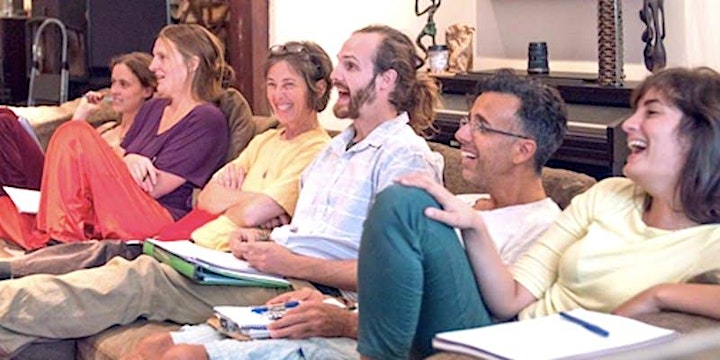 Diana's sociocracy trainings engage multiple learning modes and is engaging and fun, like this training she conducted in Montreal, 2014.
The sociocracy webinar is 35 hours of visual learning and live practice over a 10-week period, with six different learning activities:
(1) For each week's sociocracy topic, you'll see watch-ahead videos of Diana drawing graphics as she presents material verbally, and short "readers' theater" skits and songs about sociocracy by past training participants.
(2) You'll get read-ahead handouts — many with colorful graphics — that further illuminate each week's topic. The weekly videos and handouts involve about 1.5 hours on average of learning time.
(3) You'll experience two-hour lively practice sessions for each topic with other webinar participants.
(4) You'll get a short emailed quiz about each week's topic, followed a few days later by Diana confirming quiz answers and clarifying any misunderstandings about that week's topic.
(5) You'll receive responses to any questions or comments you email Diana about sociocracy during the webinar period and for a year afterwards.
(6) You'll have access to all course videos and handouts for a year after the webinar to help your group train your new incoming members in sociocracy. During that year Diana will respond to questions and provide additional help if needed.
Learning the seven parts of sociocracy works very well by seeing each part first illustrated visually in the videos, followed by reading the handouts. But you'll learn it best by practicing it with other webinar participants!
Sample 11-minute webinar video: "Seven Parts" of Sociocracy"
Sample handout: Sociocracy: "Effective, Efficient, and Fun"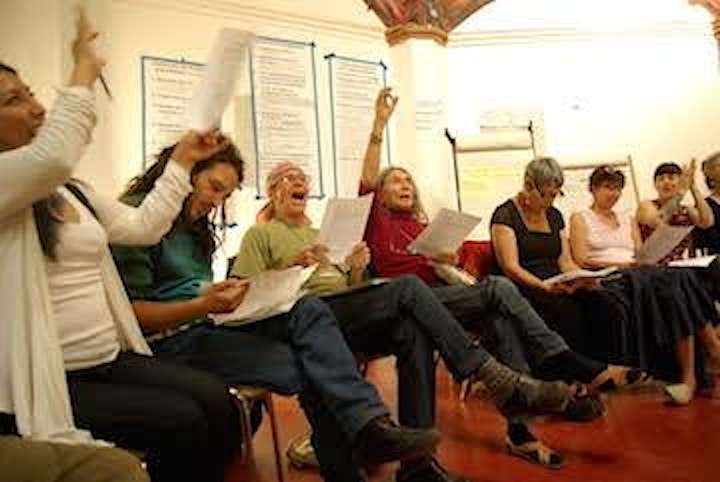 Workshop participants enjoying a readers' theater "Hobbit Skit" to learn sociocracy's "Consent Decision-Making" process at Diana's training at Huehuecoyotl Ecovillage in Mexico, 2015. In the webinar you will learn sociocracy meeting processes with videos and skits like this.
"Learning sociocracy in Diana's webinar and using it in our community has easily been the biggest catalyst to help our group thrive. I attribute this mostly to Diana's deep experience and knowledge of sociocracy as used in intentional communities, while her charm and teaching style kept the process fun, light, and engaging. I was involved in two communities that failed — in the webinar I often had the insight, "Oh! We could have saved so much wasted time if I'd known this earlier!" or "Wow, now I know how to avoid that issue in the future." I believe this training can help your group bypass the typical difficulties that challenge communities and enjoy effective, enjoyable community governance instead!" —Jordan Lindsay, Teal House, Calgary, Alberta, 2020
"Your fabulous, fun, and effective sociocracy training was so valuable for our group — I didn't want to miss a word! I recommend your sociocracy training to anyone curious about using this governance method in their community." —Gale Tolan, Highland Lake Cove Cohousing, NC. Sociocracy Training, 2017
"The way Diana engages participants learning sociocracy is brilliant. She's a master at making complex material simple."—Gaya Erlandson, Lotus Lodge, NC, 2012
About the instructor, Diana Leafe Christian
As noted above, Diana is author of Creating a Life Together (now also in French, Italian, Spanish, Russian, Hebrew, and Korean), and Finding Community. Editor of Communities magazine for 14 years, Diana specializes in what works well in ecovillages and cohousing communities.
Diana speaks at ecovillage and cohousing conferences, offers consultations, and leads workshops internationally. She has the ability to make complex issues simple and clear. Her topics include effective, harmonious ways for groups to become healthy and thriving, and resolve the typical interpersonal challenges that can arise in any group. Diana has taught Sociocracy to communities and member-led groups internationally: in Canada and the US, Mexico, Columbia, Brazil, England, Scotland, Russia, France, and Sweden.
In 2017 she received the Fellowship for Intentional community's Kozeny Communitarian Award, a lifetime achievement award for contributions to the communities movement. Diana lives at Earthaven Ecovillage in North Carolina.
http://www.DianaLeafeChristian.org