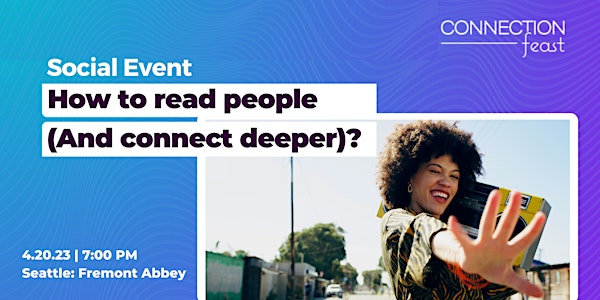 Social Event | How to read people (And connect deeper)?
Want to spark connection with others and have deep conversations proven to help you experience more fulfilling human connections? Join us!
Date and time
Starts on Thursday, April 20 · 7pm PDT
Location
Fremont Abbey Arts Center 4272 Fremont Avenue North Seattle, WA 98103
Refund Policy
Contact the organizer to request a refund.
About this event
2 hours 15 minutes

Mobile eTicket
👋🏽 Join us for an in-person social experience all around the topic of how to read people, the benefits, and how you can pick up on cues so you can spark deeper and more meaningful connections in your relationships (of all types).
🤩 If you're interested in diving deep and exploring big questions through fun guided conversations proven to help you create a deeper connection with yourself and new people, this in-person Connection Feast in Seattle is for you.
🎟 Sliding scale Tix: $20-35! We want everyone to join a Feast regardless of financial status. To request a reduced seat to this Feast, please fill out this form & we'll follow-up: https://bit.ly/2Xbth2i 👈🏾
-----------✨ Curated & produced by Connection Feast✨-----------
😅 A lot of emphasis is placed on a person's IQ, but did you know that EQ (emotional intelligence) is just as—if not more—important?
💥 Your EQ influences how you read people, and how you pick up on the subtlest cues. So, with a higher EQ, you may find it easier to deeply connect with others. And they'll also feel closer with you too!
But having EQ also means you know how to recognize and manage your own feelings. And with this combination of empathy and self-awareness, your relationships (of all types!) can flourish.
🙌🏽 Here's the best part: Even if you think your EQ is high or you know what it is already, you can learn how to develop and boost your EQ! Then, you can use your heightened EQ to understand people better, connect with them more deeply, and communicate more effectively. Things to ponder:
How do you read people and pick up on their cues?
Which cues should you look for to enhance your interactions with others?
What cues are you giving off, and what do they say about you?
⬇️ So, if you're interested in connecting deeper with yourself and others, and have an open mind to look at how your own emotional intelligence is impacting your relationships, this in-person Seattle City Feast is for you!
By the time you leave this Feast, you'll definitely feel like you've connected deeper more with yourself and others, while also feeling inspired to to level-up all connections in your life.
💥Tickets go quickly! Snag your seat early!
🎫 DETAILS
Date: Thursday, April 20, 2023
Where: Fremont Abbey (Seattle): Lower level - 4272 Fremont Ave N, Seattle, WA 98103
Time: 7:00 - 9:15pm PT - 6:45pm doors open (Be on time – doors close at 7:10pm)
Drinks & Snacks: Snacks included in your ticket & non-alcoholic drinks available for purchase
Cost: $35
Pay it Forward Ticket: We want everyone to join a Feast regardless of financial status. To request a reduced/comped seat to this Feast, please fill out this form: https://bit.ly/2Xbth2i
Former Founding Members: Apply your promo codes for discounts!
Ages: 21+
👋 HOW IT WORKS:
Register and snag your seat so you don't miss out
Arrive at least 10 mins early (we start on time at 7:00pm & doors open at 6:45pm)
Check in, check out the space, and mingle for a bit
Grab snacks & a drink
Gather around group tables, and warm up your conversation palette as your connection hosts lead you in a group discussion centered around the theme
Connect with other Feasters in small groups through prompted & guided connectivities
At the end of the event you'll have the opportunity to submit to the Connection Feast "Sugar Bowl." The Sugar Bowl is a way to keep in touch with your fellow Feasters, create connections, and find ways to help each other out.
✨Curated & produced by Connection Feast. Please note that your email will be shared with Connection Feast, the event curator, for follow-up purposes only, and will not be sold. You may also be added to the Abbey Arts email list which has an easy single click opt-out option
About Connection Feast:
Connection Feast is a community of people motivated to create more fulfilling human connections.
Join us for in-person and virtual experiences (like this Feast!), which include intentional and guided conversation, games, and activities all around a thought-provoking theme.
The goal of the Connection Feast isn't just to have you attend a one-time event. A Feast helps people like you explore big questions through intentional conversations and social experiences, so you'll build deeper relationships with yourself, each other, and the world.
Community Agreements: Connection Feast should be a comfortable and safe experience for everyone, and as a Feaster you have a responsibility to help us achieve this. All Feasters who reserve a seat are required to abide by our Terms of Service and Community Agreements. If a Feaster engages in unacceptable behavior, the Connection Feast host and/or facilitators may take any action they deem appropriate.
Please follow @ConnectionFeast on Instagram for Feast event updates and to stay connected.
ABBEY ARTS EVENT INFO:
Check tickets for show time
Fremont Abbey is ADA accessible on either level.
We have a mix of normal chairs, some tall chairs, and standing room in back.
Seating is not reserved unless noted.
Please refrain from talking or texting during the show.
No video from the seating area please.
Please limit photos during the show so as to not distract other attendees from the experience.
We are an all ages venue. Kids 10 & under are free at Abbey Arts concerts & arts events unless noted.
Entering the venue indicates agreement to adhere to the Abbey Respect Policy. All are welcome
ABBEY ARTS, SEATTLE | NONPROFIT 501C3, NON-RELIGIOUS, EST. 2005
Presenting welcoming music, arts & cultural experiences for people of all ages & incomes.
Venue rental info & more: http://www.fremontabbey.org/rent
Concert & events calendar: http://www.abbeypresents.org
Arts Connect provides free tickets for nonprofit workers, low income families, and veterans. www.fremontabbey.org/artsconnect/
Volunteer opportunities are available for most shows (include free entry) www.fremontabbey.org/volunteer
Home Venue: Fremont Abbey, 4272 Fremont Ave North, Seattle, WA 98103 / 206-414-8325
Note: All ticket sales are final unless noted. Lineup and performers are subject to change, no refunds for change of support acts.
COVID PROTOCOL
Please note the COVID-19 Policy, which is applicable to all CNX in-person experiences.
About the organizer
Public Health Info:
Be sure to check your events ticketing page for any special requirements per event.
That being said, we still strongly encourage people attending to follow all safety protocols shown below and per King County Public Health.
Attendees are welcome to wear masks at their discretion, all are welcome. Please don't discriminate based on mask or no mask. Some people may opt to wear a N95 for their own protection.
Please check your specific event details before purchasing a ticket.
THESE GUIDELINES MAY CHANGE AT ANY TIME DUE TO PUBLIC HEALTH GUIDELINES
-----------MORE INFO--------------
All Abbey Arts employees & volunteers are vaccinated.
We are operating at full capacity and do not have any capacity restrictions unless otherwise noted in the event description.
We have added hand sanitizing stations and air filtration systems around our venues. We encourage you to regularly sanitize and fully wash hands when you use the restroom.
****
By entering the Venue, you and the members of your group voluntarily assume the risks of contracting COVID-19 and agree to release, waive, discharge and covenant not to sue any Artist performing or Abbey employee or company (including their owners, officers, employees, volunteers, agents and the City of Seattle), and hold these entities and persons harmless from liability regarding any and all claims relating to COVID-19 and indirectly or directly arising out of or relating to the Venue or event.
****
Individual events may have additional safety measures in place, see Ticketing pages for details.
-----------------------
ABBEY ARTS, SEATTLE:
NONPROFIT 501C3, NON-RELIGIOUS, EST. 2005
Fremont Abbey | Ballard Homestead | South Park Hall | St Mark's Capitol Hill | The Auditorium @ UHeights |  & more
Independent nonprofit, non-religious, all ages/incomes. 
Low Fee Tickets! No hidden high fees like Ticktmstr. :-)
[ Click here to subscribe to our optional text messages. ]
[The views and opinions expressed at events are those of the artists and performers and do not necessarily reflect Abbey Arts. About Page | Respect Policy.]
Refunds may be available per event settings.
No refunds due to support act changes.
Tickets for rental events may be via their website. 
Note: Entry requirements are subject to change. By purchasing tickets to this event you agree to abide by entry requirements in effect at the time of the event. Check the venue website leading up to your event for the latest protocols.