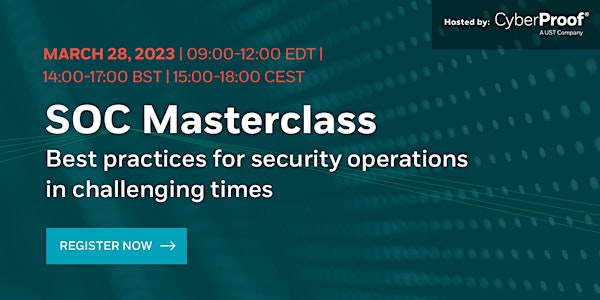 SOC Masterclass:Best practices for security operations in challenging times
REGISTER HERE FOR ZOOM LINK: https://go.cyberproof.com/soc-masterclass-march-28-2023
Date and time
Tuesday, March 28 · 6 - 9am PDT
About this event
Our virtual event focuses on how enterprises can mitigate risk while transitioning to cloud-native ecosystems. It is designed to inspire security professionals to enhance and optimize their security operations. CyberProof's experts "deep dive" into some of the most pressing issues SOC teams are facing today, including mitigating the security challenges of cloud migration, how threat hunting provides new ways of minimizing risk, and optimizing your detection & response workflows to keep ahead of the new and evolving threats.
Agenda
9:00 AM - 9:45 AM
CISO spotlight: Mitigating the risk of cyberattack amidst increasing threats
---
In this session, Tony Velleca, CyberProof CEO, and Karenann Terrell, Technology Advisor, Former Chief Digital and Technology Officer, GSK, explore some of 2023 challenges and how they impact cyber ri...

9:45 AM - 10:30 AM
How threat hunting can transform your security operations
---
Threat hunting can transform security operations by providing a proactive approach to cybersecurity. It involves proactively searching for potential threats that have evaded existing security measure...

10:30 AM - 11:15 AM
Maximizing enterprise cyber readiness during a recession – how to mitigate the
---
The current atmosphere of economic uncertainty means we all need to do more with less. But what are the practical ramifications of this new reality? Let's explore how CyberProof's clients are learnin...

11:15 AM - 12:00 PM
Trends in the use of cyber-attacks by nation states
---
In this session, Yuval Wollman, CyberProof President and Asaf Kochan, Sentra Co-Founder and President will discuss why CISOs should be paying more attention to geopolitics for cybersecurity. The sess...