Description
COHORT #7 - SOAR Leading for Growth Program
New Perspectives – Expanded Thinking – Breakthrough Results
The SOAR Leading for Growth Program develops and strengthens Leadership Excellence and drives Growth at Every Level in organizations. In this program you will gain powerful tools and practices that will catalyze and accelerate the growth of your people and your organization.
4-module Program every 2nd Friday of the month starting in September 2019:

Networking and breakfast begins at 8:00 a.m.
Sessions run from 8:30 a.m. - 12:30 p.m.
Module 1: September 13, 2019
Module 2: October 11, 2019
Module 3: November 8, 2919
Module 4: December 13, 2019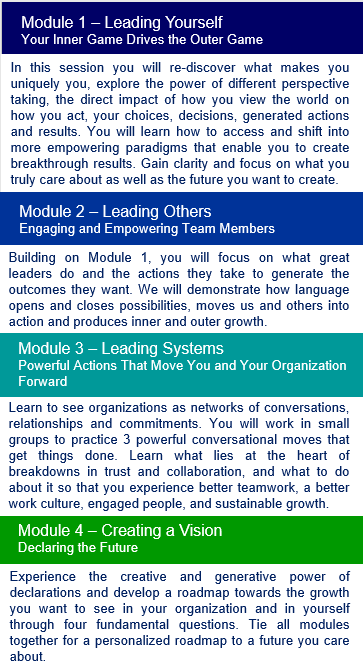 Program includes:
•
4 half-day interactive workshops
• 3 x 45-minute laser coaching sessions
• Peer group support between sessions
• Networking and learning with inspiring peers
• Bonus personalized Next Steps coaching
• Facts, Fantastic Learning, Fun, Food
Please contact us directly or visit our websites for additional information:
Friderike Butler, Principal, Butler Communication, is a successful serial entrepreneur, executive coach and emerging leadership consultant.
Her passion lies in emerging leader development, multi-generational and culturally-diverse workforce integration in internationally active organizations. She teaches and coaches effective communication and excels in creating people-centered, positive work environments from the inside out to achieve best possible results.
A B.I.S. degree in Intercultural Management and Communication from George Mason University, a certificate in Leadership Coaching from Georgetown University's Institute for Transformational Leadership (ICF accredited at ACC level), and an MS degree in Organizational Design and Knowledge Management (grad. '20) inform and brighten Friderike's work and curiosity around culture, the power of words, and positive psychology.
Friderike Butler - www.ButlerCommunication.com - fbutler@butlercommunication.com - 703-599-9079


Sponsored by:
Organizer of SOAR Leading for Growth Program - Sep.-Dec. 2019
Previously available only to large organizations with an extensive education and training budget, the acclaimed SOAR Leadership Development Programs have now been made accessible for smaller organizations and motivated, high-performing individuals with limited training funds, who are looking to accelerate their professional development and create break-through results at work and in their personal lives.
SOAR Leading for Results is now offered as open-enrollment programs twice a year at a state-of-the art training facility conveniently located in McLean, VA and is also available as customizable in-house programs.
Friderike Butler, CEO of Butler Communication, and Vinay Kumar, Founder of Leading for Breakthroughs, are partnering to offer this continuously up-dated, experiential program.