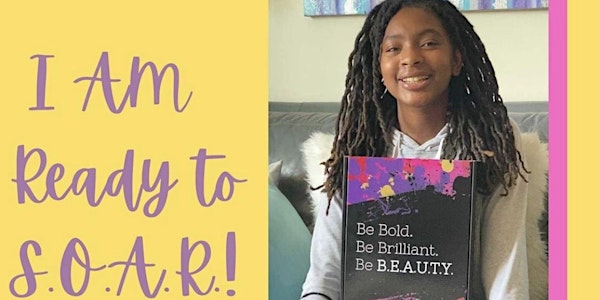 S.O.A.R. Girl! Self-Efficacy, Leadership & Confidence Building Program
S.O.A.R. Girl is a virtual program for girls ( 8-18 years old) to build Self-Efficacy , Leadership & Confidence.
About this event
I AM BEAUTY Inc. in partnership with the KAI Family Foundation Present
S.O.A.R. Girl! SPRING 2021
Self-Efficacy , Leadership & Confidence Building Virtual Program for Girls
February 6, 2021 - March 21, 2021
Saturdays 10:00 AM to 2:00 PM ( EST)
S.O.A.R. Girl is a virtual program for girls ( 8-18 years old) created to provide empowerment, development, recreation, mentorship and opportunities to build relationships with peers all across the world.
We want to push our Girls to S.O.A.R.!
S - Strive for EXCELLENCE
O- OVERCOME all Obstacles
A- ACHIEVE Your Goals
R- REPEAT & reach HIGHER.
Why is the S.OA.R. Girl! Spring program important?
According to Dove ( 2017) , only 4% of women around the world consider themselves beautiful and only 11% are comfortable describing themselves as "beautiful."
Over half the girls in the world do not have high body esteem which negatively impacts their assertiveness, self-efficacy and increases the likelihood of developing eating disorders or other health issues ( Dove, 2017)
Low self esteem is linked to negative emotions ( fear, anxiety or depression), bullying, violence, school dropout rates, teenage pregnancy and low academic achievement (Misetich & Delis-Abrams, 2003)
Due to the ambient stress from the global pandemic , 22.6% of children reported depressive symptoms and 18.9% are experiencing anxiety. Our programs provide therapeutic interventions to support girls in expressing their emotions, develop coping strategies and improve their overall well-being.
Our goal is to provide interventions to help girls develop healthy self-esteem and evolve into powerful, courageous and confident leaders.
Eligibility Requirements
Must be a girl between the age of 8 and 18.
Must have access to a computer with a camera and internet access.
Can commit to attending ALL dates and be on time .
Parents must be able to attend online orientation on Thursday, January 29th 7pm- 8pm
What can a participant expect in S.O.A.R. GIRL?
Participants will be given tools to build healthy self-esteem, formulate goals, find their strengths, and hone life skills essential to success while having FUN! The program is facilitated by Akilah C. Bernard, a dynamic ,energetic and passionate Self-Esteem Guru, Teen Expert and Therapist with over 15 years of experience working in youth development. In addition, guest speakers, staff, former graduates, panelists and wellness instructors join us throughout the program to participate in various sessions.
Sessions are facilitated using Zoom and various media sources including youtube, google documents, Kahoot.it and more.
Program Highlights Include:
Online Interactive and Engaging weekly sessions
Group coaching and trauma informed counseling focused on expressing emotions and positive identity development.
Self-esteem, confidence and strengths building exercises
Leadership & Personal development workshops
Goal Setting & Career Exploration
Virtual Team Building & Community Service Projects
Yoga, Fitness & Mindfulness Segments
Online team building and community service project
Opportunity to build relationships with other girls internationally.
I AM BEAUTY Box w/Affirmation T-shirt , Wrist band and virtual SWAG Bag
What will a participant need to attend sessions?
A Journal or Notebook ( 3-5 pieces of paper per session)
What are the Tuition Costs?
The 7-Week S.O.A.R Girl Spring Program is completely FREE . The KAI Family foundation has partnered with I AM BEAUTY to provide scholarships for all selected participants to attend the Spring 2021 SOAR Girl program free of cost!
Program Dates
Saturday, February 6, 2021 - Kick off Weekend Part 1
Saturday, February 7, 2021 - Kick off Weekend Part 2
Saturday, February 13, 2021 - Session
Saturday, February 20, 2021 - Session
Saturday, February 27, 2021 - Career Photo Shoot
Saturday, March 6, 2021 - Session
Saturday, March 13, 2021 - Session
Saturday, March 20, 2021 - Last Session
Sunday, March 21, 2021 - Finale Celebration (Parents Required to Attend)
What is I AM BEAUTY?
I AM BEAUTY Inc. is a global organization committed to empowering and inspiring girls and women to reach their fullest potential. We do this by providing trauma-informed educational services, strengths-based programming, self-esteem coaching and mental health counseling. Through our dynamic programming, counseling and coaching our goal is to help our clients love who they are, believe in the inner power they possess and equip them with the tools needed to accomplish their dreams. S.O.A.R. Girl! is our signature I AM BEAUTY Bootcamp/ Summer Leadership Academy in an online format. Since 2013, we have had over 5,000 girls participate in our one-day and multi-week programs in the U.S. , Jamaica, Haiti and Kenya. To learn more about I AM BEAUTY Visit iambeautyinc.com
What is the KAI Family Foundation?
KAI Family Foundation was built to help self-sustain communities and ensure families that are overlooked, feel heard, inspired, and powerful! Through this foundation, it wants to uplift young people living in marginalized communities to have cultural enrichment experiences to be thoughtful and progressive citizens to thrive in life. To learn more about KAIFF visit kaiff.org.
What if I do not have a computer?
Applicants can apply for a KAIFF Computer scholarship if they meet the following requirements:
Do not have their own computer
Will be able to commit to attending the full 7-week program.
Will be participating in virtual learning for the 2020-2021 school year.
To apply for the computer scholarship , please email an essay sharing the impact of the global pandemic on your life and family. In addition, please share how receiving a computer will support you in achieving your goals. Deadline is January 1, 2021. Email submissions to info@iambeautyinc.com. Scholarship recipients will receive a computer, headphones and other accessories . Technology scholarships are limited.
More Questions?
We welcome any additional questions you have. Feel free to email info@iambeautyinc.com or contact us at (302) 468-6771‬.
Stay safe and be WELL!