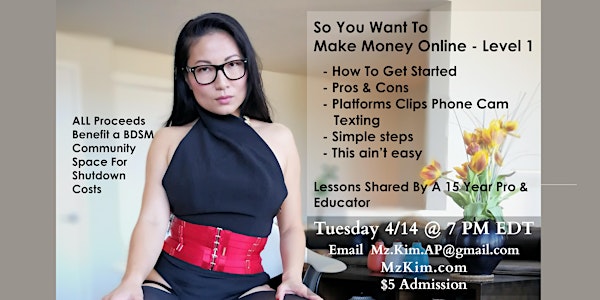 So You Want To Make Money Online Through SW - Level 1
Refund Policy
Contact the organizer to request a refund.
Eventbrite's fee is nonrefundable.
Description
So You Want To Make Money Online Through SW - Level 1. I can show you how. This is an online seminar for those new to the industry as well as those who need a brush-up. Lack of education on the possibilities of online work is one of problems in getting started in this business. The shelter-in-place policies around the world have left so many without a means to work. Luckily, there are innovations and educators that can help!

You've probably heard of the many ways that SWs can make money online. However, it's overwhelming the amount of bad information or lack of information there is out there. How do you know which platforms to choose? How do you even go about making content? What is defined as content? What do you have to sell? What are your limits?

I have been an online dominatrix and fetish content producer for over 12 years. 95% of my businesses are online. In these strange times of isolation and instability, my business is booming. I have also taught quite a few workshops on how to Monetize Your Appeal Online. I don't want to just throw any and all information at you. I want to give you useful tools so that you can do this efficiently, and on your own.

In this class I will help you to begin your journey in online work. I will give you the tools you need to start quickly and with a low budget. Which platforms do I suggest for a beginner? How to determine what kind of work suits you?

Levels 2 & 3 will help those already familiar with this work to refine your skills and dig deeper into online work. Please subscribe to my site or email me and you will get information for additional classes.
I will help you decide what platforms are right for you, give advice on how to juggle all your new sites and help you find your style in distance domination.
The admission is $5. ALL proceeds for this class will be donated to struggling educational spaces. This is a non-profit webinar. Please email MzKimAP@gmail.com if you cannot afford this. I will save 5 free tickets and let the recipients know on Sunday.

2 follow-up emails will be sent out to attendees through Eventbrite for details on how to enter the webinar.
About Kim Lee
I am a professional Dominatrix. Online/Distance Domination is the primary way that I train, and play with my clients. I love the anonymity and privacy this form of play provides my subs. I love the creativity and fun that we can share in through chat, talk, or Skype. I am a mind fuck expert, a hypnosis kinkster, and adept in all sorts of roleplay. I like pushing people to their edge and playing with the tension created within the boundaries of BDSM. My professional focus is how to do all of this online. While my personal and lifestyle experience in BDSM has made me the capable domina you now see, my work has almost always been online. With 15 years of experience making a living as an online Femdom and Findom, my passion now is shifting towards teaching. I now teach classes at public venues like DomCon LA and NOLA, in kink-friendly venues on the west coast, and I provide private consults for Sex Workers who want to expand their business and widen their influence online. I teach the skills needed to begin as a novice, or transform your business, yourself into the modern world of online domination and BDSM.