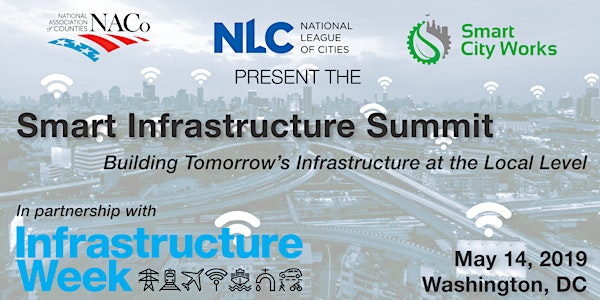 Smart Infrastructure Summit: Building Tomorrow's Infrastructure at the Local Level
By SmartCityWorks, National League of Cities, National Association of Counties, in partnership with Infrastructure Week
Date and time
Tuesday, May 14, 2019 · 8:30am - 2pm EDT
Location
City-County Briefing Center 660 North Capitol Street Northwest Washington, DC 20001
Description
As communities across America work to better serve their citizens, many are looking to a blend of physical and digital infrastructure to improve outcomes in transportation, water, energy, and other built infrastructure systems. But what does it mean to be a "smart" city or region? This summit convenes experts and practitioners from city and county government, public agencies and utilities, and the private sector to define "smart" infrastructure, the opportunities it offers, and the challenges posed by its implementation and governance.
Through a series of presentations and panel conversations, audience members will:
Learn from leaders with experience implementing digital solutions and projects in the transportation, water, energy, broadband, construction and other sectors;
Hear economic development leaders make the case for technology-rich regions;
Share in insights from experts dealing first-hand with how to fund and finance smart infrastructure,
Discuss the critical role of cyber-security and data protection and how to secure digital and connected infrastructure systems;
And, how to ensure that its impacts and benefits are shared equitably and governed democratically.
Speakers include:
The Honorable Lily Mei, Mayor of Fremont, CA
The Honorable Randy Maluchnik, Commissioner of Carver County, MN
Carlos Rivero, Chief Data Officer, Commonwealth of Virginia
Denise Roth, Chief Development Officer, WSP USA and former GSA Administrator
Biju George, Executive Vice President, Operations and Engineering, DC Water
Robert Stalzer, City Manager, Fairfax, VA
Aundra Wallace, CEO, JAXUSA Partnership
Robert Johnson, SVP for Public Sector Investments, Hannon Armstrong
David Ihrie, Chief Technology Officer, Center for Innovative Technology
Christina Winn, Director of Business Investment, Arlington Economic Development, Arlington County, VA
Phil Horvitz, Chief Technology Officer, Management Services Group, AECOM
Joseph Averkamp, Vice President, Systems and Solutions, Parsons Corporation
Lisa Brown, National Senior Director for Local Government and Municipal Infrastructure, Johnson Controls
Brooks Rainwater, Senior Executive Director, Center for City Solutions, National League of Cities
Christopher Rezendez, Founder, IOT Impact Labs
Donald DeLoach, CEO, Rocket Wagon Venture Studios
Jack McDougle, President and CEO, Greater Washingon Board of Trade
George Thomas, Principal, New Urban Informatics
Clarence Anthony, Executive Director, National League of Cities
Matthew Chase, CEO and Executive Director, National Association of Counties
Robert Mazer, Co-Founder, Smart City Works
David Heyman, Co-Founder, Smart City Works
Greg Sauter, Co-Founder, Smart City Works
This event is organized by Smart City Works, the National Association of Counties, and the National League of Cities in partnership with Infrastructure Week.

Breakfast and lunch will be provided. Registration is free but required.
About the organizer
This event is planned by a collaboration of SmartCityWorks, the National Association of Counties, the National League of Cities, and Infrastructure Week.
National Association of Counties Founded in 1935, NACO provides essential services to the nation's 3,069 counties. NACo advances issues with a unified voice before the federal government, improves the public's understanding of county government, assists counties in finding and sharing innovative solutions through education and research, and provides value-added services to save counties and taxpayers money.
The National League of Cities (NLC) is dedicated to helping city leaders build better communities. Working in partnership with the 49 state municipal leagues, NLC serves as a resource to and an advocate for the more than 19,000 cities, villages and towns it represents.
Smart City Works is a sector thought leader providing a new class of business accelerator that more rapidly commercializes new technologies and innovations creating much needed advances. Smart City Works is dedicated to re-imagining the nexus of technology and community. By bringing the best advances and inventions in infrastructure, IoT, and urban technology to life, Smart City Works transforms the possible into high-performing growth businesses improving the livability, operations and resilience of cities.
Infrastructure Week May 13-20 is the 7th annual National Infrastructure Week, led by its Steering Committee – a bipartisan team that includes leading business groups, labor unions, and think tanks working to improve America's infrastructure and #BuildForTomorrow. Together, our Steering Committee and nearly 500 Affiliates at the national, state, and local levels, represent stakeholders from manufacturers and retailers to mayors and senior citizens. Our voices – from every facet of America's economy, workforce, and communities – are united to make the case for investing in the transportation, water, energy and communications projects that keep America competitive, prosperous, and safe. Throughout Infrastructure Week, nearly 100 events, amplified by press and social media campaigns, will highlight critical projects, innovative policeis and technologies, and the courageous leaders working to achieve them. Learn more about Infrastructure Week at www.infrastructureweek.org.