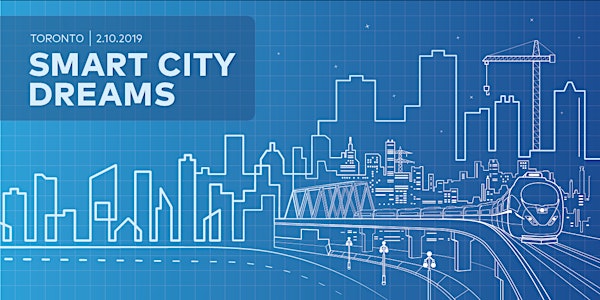 Smart City Dreams: Evolving Smart Cities from Blueprints to Reality
Come to discuss live projects, meet urbanists, enterprise and community partners, and startups that help shape the future of smart cities
When and where
Location
307 Lake Shore Blvd E 307 Lake Shore Boulevard East Toronto, ON M5A 1C1 Canada
About this event
*This event is currently sold out, please register for the waitlist or contact elena.yunusov@highlinebeta.com to register for open spots.
Smart cities are not our collective distant future anymore.
In the past decade, we have seen important smart city conversations and blueprints emerge, but the future of smart cities is here and now.
Evolving blueprints to reality takes openness to collaboration with the goal of forming creative partnerships between various stakeholders - from technology companies and startups, community advocates and groups, enterprises, investors, to public sector - that tackle the challenges and opportunities smart cities represent.
This event will focus on showcasing and discussing live projects.
From low-energy sensors for infrastructure monitoring and maintenance, to understanding and measuring traffic behaviour, to micro-mobility, to last-mile delivery and commuting solutions, we want to look at what works and why, how these pilots started and how to best collaborate on what's next.
With a lens on safety and mobility, we will discuss how can our cities truly work for everybody and drive the environmental, economic and social impact we all desire.
Moderator:
Kevin McLaughlin, Voila Mobility shared urban mobility ventures / Mentor, Safe x Connected Cities Accelerator, powered by Highline Beta
Panelists:
Catherine Brown, VP of Marketing & Corporate Social Responsibility at Aviva Canada
Marcus Daniels, CEO, Highline Beta
Andrew Miller, Associate Director, Mobility at Sidewalk Labs
Hamish Campbell, Country Lead - Canada at Via - On-Demand Transit
Rashid Galadanci, CEO & Founder, Driver Technologies
Agenda
6:00 - 6:30pm: Registration/doors open
6:30 - 6:45pm: Opening remarks
6:45 - 7:30pm: Panel Discussion
7:30 - 8:00 pm: Q&A . Follow along with the discussion https://app.sli.do/event/zh4as7lk
8:00 - 8:15 pm: Closing remarks
8:15-9:00pm: Networking
Speaker Bios
Kevin McLaughlin is a mobility entrepreneur, passionate about turning great ideas into products and services that improve people's lives thru better mobility and healthier cities.
He has founded a number of successful Canadian mobility and healthy city ventures, including AutoShare, Toronto's original car-sharing service (1998), now part of Enterprise CarShare; Vancouver's Modo - the Car Co-op (1997) and Evergreen Canada (1991), an NGO focussed on Making Cities Flourish. He recently worked for Groupe PSA, leading the French OEM's launch of their mobility platform in the USA and a new carshare in Washington, DC under the Free2Move brand.
Kevin is currently working on a new mobility venture, consults on urban mobility platforms and projects, and supports other startups including Zown.it and MUVEtech. Kevin graduated from Queen's University with a B.Comm and lives in Toronto with his family.
----
Marcus Daniels is a Founding Partner and CEO of Highline BETA, leading visionary execution, strategic deals and new venture funding. He has 20+ years of experience as a serial tech entrepreneur and operating executive with a top decile pre-seed investing track record. Formerly the Co-Founder & CEO of HIGHLINE.vc and Managing Director of Extreme Startups, Marcus continues to help evolve accelerator models to make corporate-startup collaboration work.
Highline Beta builds and funds new ventures alongside forward-thinking global enterprises like Aviva, AB InBev, and RBC. Combining the industry experience of enterprises, agility of startups, and methodology of investors, Highline Beta is building a new model for corporate innovation and venture capital to unlock new markets and drive growth.
----
Catherine Brown, VP, Marketing & Corporate Social Responsibility at Aviva Canada is passionate about building brands and driving business. It is only through thoroughly understanding business objectives and the customer that the brands can thrive. Through her career, Catherine have had the opportunity to develop brands and drive successful businesses. In her current role at Aviva Canada, Catherine is leading the marketing department through the evolution of the business to focus on customer acquisition, leveraging customer insights and data. Her role includes strategic media planning of marketing investment, championing the digital experience, and development of overall marketing and strategy roadmap, tactics and programs.
Previously, she has served as an advisor to Holt Accelerator, along with its group of investors, advisors and experts that are dedicated to accelerating innovators; and has led all marketing and advertising strategy for goeasy Ltd.
----
Andrew Miller is Associate Director, Mobility at Sidewalk Labs. His background is in transit policy, transit planning, and public finance.
As a Strategic Leader with the City of Mississauga, he led the delivery of Dundas Connects, a master plan for rapid transit, intensified urban development, and an improved public realm for Dundas Street. For this work, he won the City's 2017 Excellence in Project Management Award – Project Lead. Previously, Andrew worked for the Ontario Public Service in various positions at the Ministries of Infrastructure, Finance, and Transportation; he was most recently head of the Municipal Transit Policy Office.
Andrew holds a B.A. from McGill University, an M.A. from Yale University, and a Ph.D from Johns Hopkins University. CBC Radio referred to him as a leading thinker on the subject of municipal finance reform. He's also fun at parties.
----
Hamish Campbell is Country Manager for Canada at Via On-Demand Transit. Before joining Via, Hamish spent 15 years in the public sector planning and implementing transportation services and infrastructure for every mode, including roles at CUTA, the TTC, Metrolinx and the City of Mississauga. As a previous recipient of Mass Transit's Top 40 Under 40 Award, as well as the best paper award from the Transportation Research Board (TRB) in 2018 for a paper he wrote about governance of driverless vehicles, shared mobility and data, Hamish is an award-winning, passionate mobility expert. He holds a Bachelors of Environmental Studies, Honours Planning from the University of Waterloo and is a Registered Professional Planner (RPP) in Ontario.
----
Rashid Galadanci, CEO & Founder, Driver Technologies. Rashid Galadanci has a passion for cars, car safety and AI. Before founding Driver, Rashid worked in venture capital, technology, emerging market economic development and management consulting. As the second team member, and now Venture Partner, at The Social Entrepreneurs' Fund (TSEF), Rashid spent over 5 years investing in successful, early-stage technology companies focused on data, AI and providing access in low and moderate-income markets around the globe. Prior to TSEF, Rashid was an associate at Armonia LLC, an impact investing-focused family office and managed global initiatives and operational policy at FINCA International, a leading micro-finance institution with over 2 million clients in 20+ countries. Rashid began his career on the Strategy and Organization team at Booz Allen Hamilton where he worked with government clients, helped launch the firm's commercial practice and developed a spin-off technology company focused on digital identity credentials. Rashid is a board member at Pigeonly, a technology company focused on disrupting predatory communications costs in the U.S. prison system in an effort to support low-income communities and lower recidivism rates.
Rashid has a B.A. from Dartmouth College where he studied political economy of emerging markets and was awarded a 1 -ear fellowship to study economic development and renewable fuel use in Brazil. He is a Carnegie New Leader.