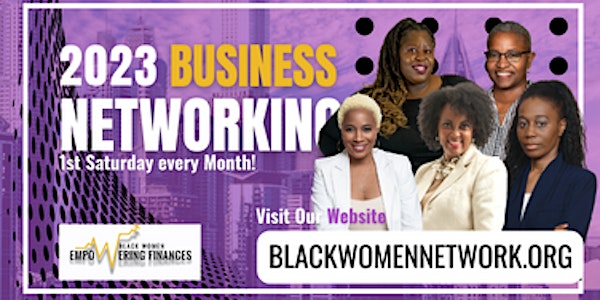 Multiple dates
Small Business Virtual Networking
Virtual Networking Event for Small Business Owners
By Black Women Empowering Finances
Date and time
November 5, 2022 · 6:30am - December 2 · 8am PDT
About this event
Join Black Women Empowering Finances every First Saturday of the Month to Network and showcase your small business amongst other women entrepreneurs!
Haven't started that business? That's okay, come and surround yourself with like-minded business owners!
April is Financial Literacy Month and you know it's time to network. It's been 7 months! Help us celebrate!
Join us to discuss Personal Finances for the Small Business Entrepreneur!
But get this: what personal finance questions do you have? It's all about you. We want to cater to the answers and questions you have about your personal finances.
Come on out Saturday, April 01, 2023 at 9:30 am - 11 am EST (It's for real 😂 not an April Fool's!)
#blackwomenempoweringfinances #blackwomennnetwork #smallbusinessnetwork #networking
See you there!