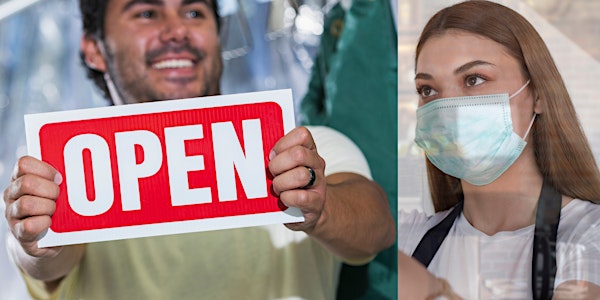 Small Business Requirements and Resources (SBRR) COVID-19 Impact Webinar
60 min. webinar has brief presentations, with time for Q&A, from WA state business liaisons on resources and impacts affecting businesses.
About this event
The COVID-19 pandemic created a new path forward. This webinar provides an overview of some of the state responses, resources, and other impacts affecting small businesses. No cost registration.
The webinar includes brief presentations from several state agency small business liaisons with dedicated time for questions and answers.
Agenda preview subject to change. What you need to know...
9:00 a.m. - Welcome and Introductions
9:03 a.m. - Governor's Office of Regulatory Innovation and Assistance/ Small Business Liaison Team - how important is small business?
9:08 a.m. - Employment Security Department - unemployment insurance, paid family and medical leave, federal CARES Act, job requirements, emergency rules...
9:18 a.m. - Open-mic Q & A
9:25 a.m. - Labor and Industries - requirements, guidance, employer assistance program -delayed payment and resources...
9:35 a.m. - Open-mic Q & A
9:42 a.m. - Department of Revenue - workload impacts, tax return extended due dates, new tax guidance, programs and resources...
9:52 a.m. - Open-mic Q & A
10:00 a.m. - Adjourn (if needed 15 additional minutes will be added for Q&A)
We invite you to join us!
Visit: www.business.wa.gov