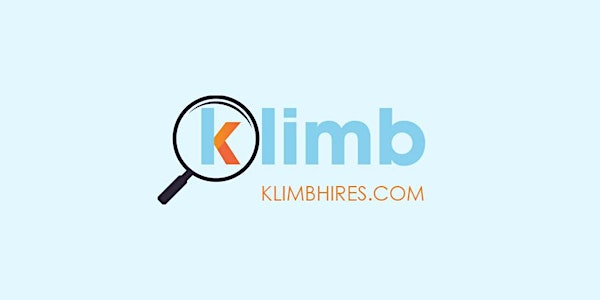 Small Business Expo and Networking Event #ChiPopup
Small Business Showcase and Networking
By Klimb Events. Events curated by Klimb Jobs.
Date and time
Saturday, October 14 · 11am - 3pm CDT
Location
Chicago Chicago Chicago, IL 60615.
About this event
Small Business Expo and Networking Event
New Date, October 14
Join us as companies showcase and/or sell their products, provide demonstrations with informational handouts, offer free samples, or provide discounted deals.
Mix & mingle with other business professionals that are serious about growing their network. Develop professional relationships in a professional environment.
Exhibitors or Employers: INTERESTED IN ATTENDING THIS EVENT? Email SalesManager@KlimbHires.Com or TEXT US! We Text Back. 470-908-2940
Attendees: email us at info@klimbhires.com with any questions.
Klimbhires.com: Our team of experienced event planners, recruiters, workforce experts, and business and marketing professionals have held hundreds of expos, business conferences, career fairs, business conferences, and placed thousands back to work. We are the experts in helping small businesses generate sales, capture leads, build awareness/ visibility, and build a database. Let US Search for YOU. 800-320-1371. Klimb Jobs LLC, Formally CCN
About the organizer
Get Inspired. Klimb Higher!
Our team has held hundreds of successful career fairs, expos (home, health, design and life), hiring events, and career empowerment conferences across the United States. Some of the events are more general in nature, while others are for targeted industries involving a specific applicant pool. Our events bring hundreds of potential candidates, consumers, and experts to the table.
With 25 years of combined experience in event management, recruitment, marketing, and employment advertising, we are dedicated and experienced at connecting! Let's Grow Together!
Commitment to our career community: Klimb Jobs, formerly CCN mission is to provide diverse resources to empower career seekers to achieve sustainable employment. Let Us Search for YOU!
Commitment to our clients Our commitment to our clients is to find the most qualified candidates or consumers for your company through a variety of programs including expos, career fairs, virtual hiring events, conferences, and workshops.