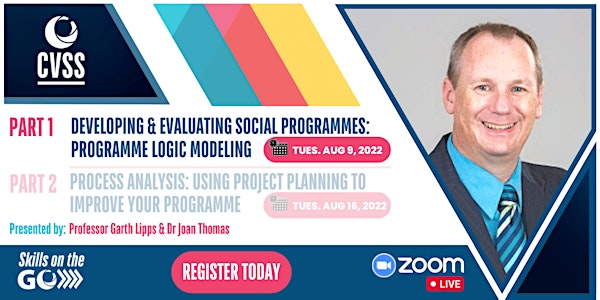 Skills On the Go! - Developing and Evaluating Social Programmes
PART 1 OF 2 - Developing and Evaluating Social Programmes: Programme Logic Modeling
About this event
About the session
This session in one of a pair, designed to teach techniques to plan and improve social programmes by ensuring that developed interventions are associated with the goals they seek to achieve and that these linkages between interventions and desired goals are plausible
On Tuesday, August 9, participants will learn the process of programme logic modelling, a technique that ensures the effort and money spent on social programmes are justified and therefore increase the chances of organisations obtaining the funding they need to create and run programmes.
Information on the second session in the series, Process Analysis: Using Project Planning to Improve Your Programme on August 16 here.
About our presenters
PROFFESSOR GARTH LIPPS
Dr. Garth Lipps is a Professor of Applied Psychology at the University of the West Indies Mona Campus. He teaches graduate courses in Psychometrics, Research Design, ProgrammeEvaluation, Dissemination Skills and Psychological Assessment in Organisations to M.Sc. and Ph.D. students in the Applied Psychology and Organisational Behaviour programmes and Psychometrics to undergraduate students. Professor Lipps is the coordinator for the undergraduate major in Psychology and the Applied Psychology graduate programme.
His research broadly focuses on the factors that influence the development of adolescent depression, job satisfaction and burnout among healthcare professionals, social relationships and loneliness. Most recently he has conducted research on the influence of academic tracking, parenting practices and neighbourhood factors on adolescent depression across the Caribbean.
Dr. Lipps received his PhD in Applied Social Psychology from The University of Saskatchewan and an MA in Clinical Psychology from the University of New Brunswick. He is the author or co-author of numerous articles and reports covering, adolescent depression, early childhood education, test development and validation, access to higher education, and subjective well-being.