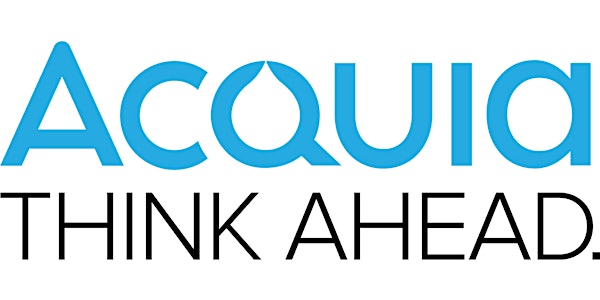 Sketch You Can! Demystifying a Powerful Collaboration Technique
When and where
Location
Acquia 53 State Street 10th Floor Boston, MA 02109
Description
Please join us for our monthly meeting at Acquia, sponsored by Acquia and Boston Interactive.
Please bring a photo ID since you may need to check in at the Security desk in the lobby.
---
Sketch You Can! Demystifying a Powerful Collaboration Technique
"This meeting is a waste of my time."

When was the last time you had that thought? In this session, you will learn a skill that you can apply on the spot that will help you focus the conversation and drive to decisions.

You can do that by walking up to the whiteboard and drawing what people are talking about. By visually capturing the conversation in a public way, you will help all participants understand each other and come to agreement faster. But I can't draw, you say. Neither can I, and I've been successfully using this technique for 20 years. If you can draw a straight-ish line, a squiggly line, an oval, and the alphabet, you have all the drawing skills necessary.

This technique is accessible to everyone. You don't need any special software and anyone on the team can use it. Pick up the pen and get on track again.
Jeremy Kriegel, UX Manager for BzzAgent

An experienced practitioner and international speaker, Jeremy believes that just as we need to understand the needs and context of users to craft a design solution, success also requires us to look at the business context to craft an appropriate design process. From start-ups to Fortune 100 companies, as a consultant or on an internal team, he has seen many different scenarios that each required their own approach. He brings this diversity of experience to bear in adapting UX to agile methodologies, finding the balance appropriate for each business. Currently, Jeremy is the UX Manager for BzzAgent, which helps generate word-of-mouth marketing content.
Agenda

6:30-7 PM – Networking and Refreshments (food will be served)

7-7:15 PM – Introductions

7:15-8:15PM - Presentation

8:15PM - Q&A
T
hank you to our generous sponsors!
Acquia is hosting us. Boston Interactive is providing refreshments.
About Acquia

Acquia provides the leading cloud platform for building, delivering, and optimizing digital experiences. Global organizations use the Acquia Platform to create a single, powerful digital foundation for delivering world-class customer experiences. With the Acquia Platform, organizations can realize the vision of personalized, contextual, and real-time customer engagement for the right person, at the right time, on the right device. These experiences can be easily deployed and managed at scale, for one to thousands of sites, driving transformative business results at breakthrough speed.
About Boston Interactive

Boston Interactive is a full service digital marketing agency where creativity meets innovation. Our passion for purposeful user experience, website design and custom web development is what drives our success. Since 1999 we have partnered with over 500 clients ranging from mid-sized organizations to Fortune 500 corporations, delivering metrics driven digital solutions for even the most complex business problems.

With a staff of under 50, our mid-tier size encourages collaboration and out of the box thinking. We are a team of usability specialists, designers, developers and producers who love to deliver imaginative and effective solutions.

We take the guesswork out with our state of the art eye tracking lab and user-centric design process. The result is a unique digital presence for each client that not only looks good, but functions to serve their specific business goals. We like what we do and it shows in our work.
Can't Attend?
Please login into Eventbrite to cancel your RSVP.
Code of Conduct
By registering and attending any UXPA Boston event, you agree to follow our Code of Conduct. If you have any questions, please contact a Board Member.